As a beginner or intermediate skier, choosing your first pair of skis quite be quite a daunting task. Modern skis are designed with a multitude of features that influence how they perform in a variety of situations. Deciphering what these features are and exactly what they mean can be quite a challenge.
One of the features talked about in ski design is ski sidecut. 
But what is ski sidecut and how does it affect my skiing? In this guide I hope to answer these questions so you are better equipped to choose that important first pair of skis.
Disclaimer: Some links in this article are affiliate links, which means that if you purchase through them I receive a small commission, at no extra cost to you. This helps cover the cost of running this blog. Thanks for your support!
What Is Ski Sidecut?
Ski sidecut is the arc that runs along the edge of a ski from the tip to the tail. The depth of that curve determines how sharp the ski will turn. The term used to measure sidecut is known as sidecut radius and is measured in meters.
Skis rely on sidecut to enable them to make and hold a turn. That's not to say every turn will have the radius specified by the ski design, as there are other powers that come into play. These include camber, flex, snow conditions and technique to name a few.
However, basically we can say the size of the ski sidecut radius affects what size turn that ski can make. The smaller the radius, the tighter the ski will turn.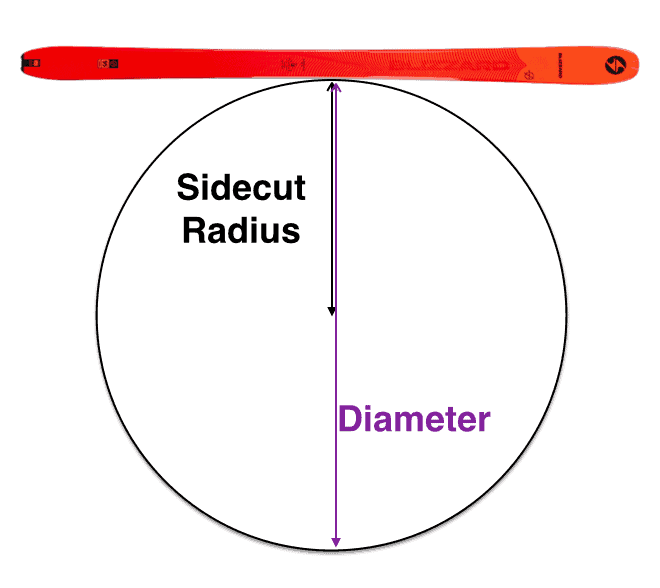 How Does Sidecut Radius Affect My Skiing?
To explain this simply lets compare ski slalom racing to downhill racing. Slalom racers will want a small turn radius as they need to carve out quick, tight turns. Whereas downhill racers are all about speed with long, drawn-out turns.  Imagine turning too sharply at 80kmh – its not going to end well! So a much longer radius is required here.
But sidecut radius is important for all levels. There are so many levels and styles of skier and ski sidecuts to suit them all.
Beginners will generally start out skiing on skis with a small sidecut radius and increase this as technique and speed improves. Experienced skiers will choose skis with a sidecut to suit particular styles of skiing, terrain or snow conditions. 
Again, it is important to remember that sidecut radius is just one of several factors to consider when choosing a pair of skis.
Related reading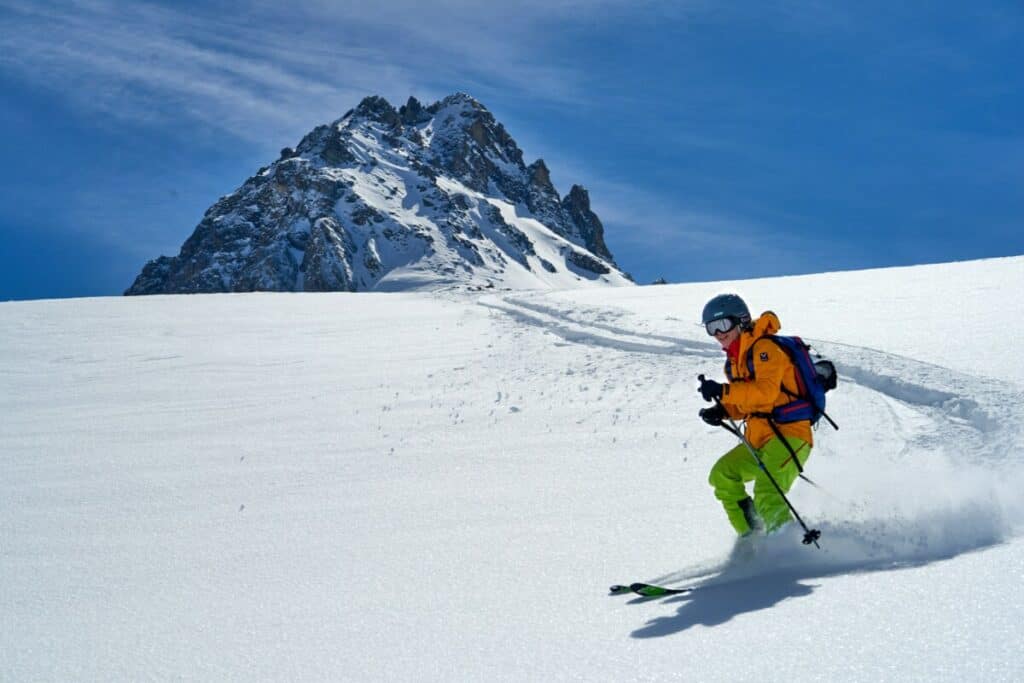 Should I Consider

S

ki Sidecut When Buying Skis?
Sidecut will influence the type of ski you buy, since the sidecut radius provides a clue as to how that ski will perform.
Beginners will ideally learn on skis with a short to medium sidecut.  Skis with shorter sidecut radius will turn nice and easy and offer a good level of control. Skis for beginners will also not be too stiff and have a profile (Camber/Rocker) suited to ease of use.
I would suggest that first time skiers will most likely be hiring their kit so be prepared to be led by the technician at the hire shop. Sidecut radius will typically be 14-18m.
Intermediates generally might want to consider a medium or slightly longer sidecut, however the style of skiing and conditions will influence what sidecut is best suited. There will come a time where experimenting with different skis will become part of the learning process.
Hiring skis is still a pretty good option here and this gives you the option of trying different skis as you improve or to suit different conditions. Decent hire shops will allow you the swap skis (to some extent) so as to try different set ups. A recommended sidecut radius will be 16-20m.
Good intermediates will be trying new things, hitting the back country and jibbing around in parks so may well want to consider skis for different occasions. Speed merchants will want the stability a long sidecut radius will offer while those messing around on moguls will need the tight turns a short sidecut will provide.  Many skiers will opt for one set of universal skis in which case I would suggest an all mountain ski with medium or medium to long sidecut. Consider a sidecut radius of 18 – 24m.
Advanced skiers already know about sidecut and will most likely have skied on various styles of skis over the years, having developed their preferences.  Ski choice will now be based on conditions and personal preference, as well as all the technical attributes built into all modern skis.
Keen skiers may well have a few setups to suit a range of circumstances.
Tip: It is quite common these days for ski manufacturers to offer promotional days to allow you to try out a pair of skis for the day and they will happily discuss your needs in the hope a sale will result. This is an ideal opportunity to try out and compare skis with different sidecuts, with a view to investing in a potential new set up or simply to have some fun.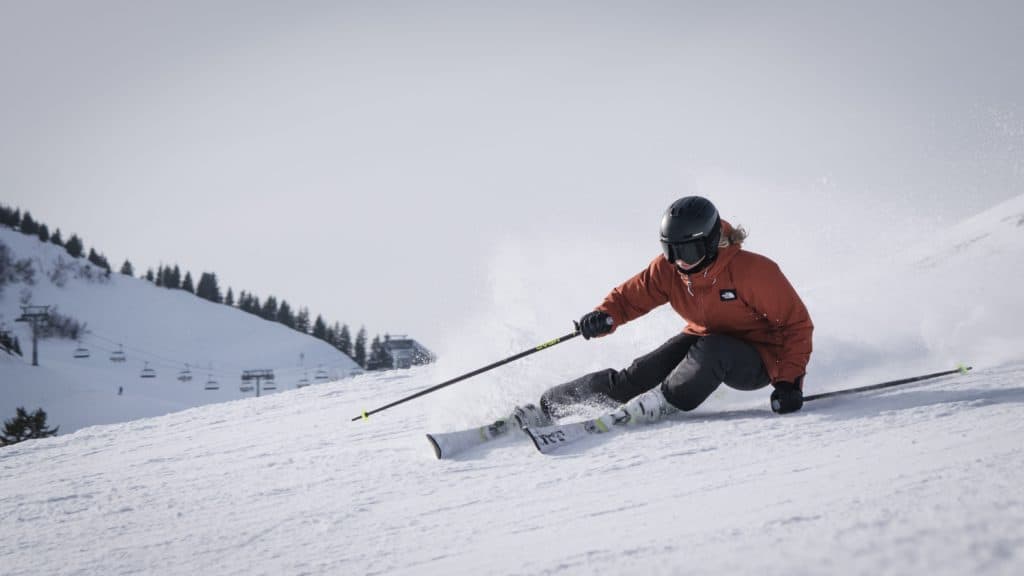 What Do The Numbers Mean?
As mentioned before, turn radius is quoted in metres. The larger the number, the wider the turn.  Short sidecut radius skis tend to be shorter in length than long radius skis.
Under 14m

 

would be a short sidecut radius.

 

Ideal for those wishing to make quick tight turns ie Slalom and also good for beginners.
14m to 20m is a medium sidecut radius . A good option for intermediates and improvers wanting to work on their technique.

 

Recreational skiers who like cruising the groomers in the sunshine might consider skis in this range.

20m+ is a large sidecut radius. Ideal for high speed turns, all mountain and off-piste skiing.

Over 30m. You are in the realm of the Super G and Downhill racers with sidecuts radius up to and over 40m . Well suited for high speed.

No sidecut (straight ski).

 

These will be used for Ski Jumping where turning is not an option. Also speed skiing where skiers compete to ski as fast as possible in a straight line, again where turning is not required.
Skiing Sidecut Summary
Ski sidecut or sidecut radius is the arc that runs along the length of the ski. It is measured in meters and refers to how tight a turn that ski can make.
Naturally, it's never quite as simple as it seems though, and sidecut radius is just one design feature in a ski. As such we should be looking at this in combination to a whole host of other specifications which can and will affect how a ski will perform.
To truly evaluate how a ski will perform in different conditions we need to consider a combination of the following.
Ski weight, flex and rigidity.

Tip and tail design.