When asking "what is the correct ski length and width for me" there is no universal, one size fits all answer. There are several factors which affect which ski length is correct, including skier ability, height, weight, style and ski terrain.
In this guide I'm going to explain everything you need to know about the length and width of skis. I explain how these measurements will affect ski performance and how this may influence a skiers choice when buying skis.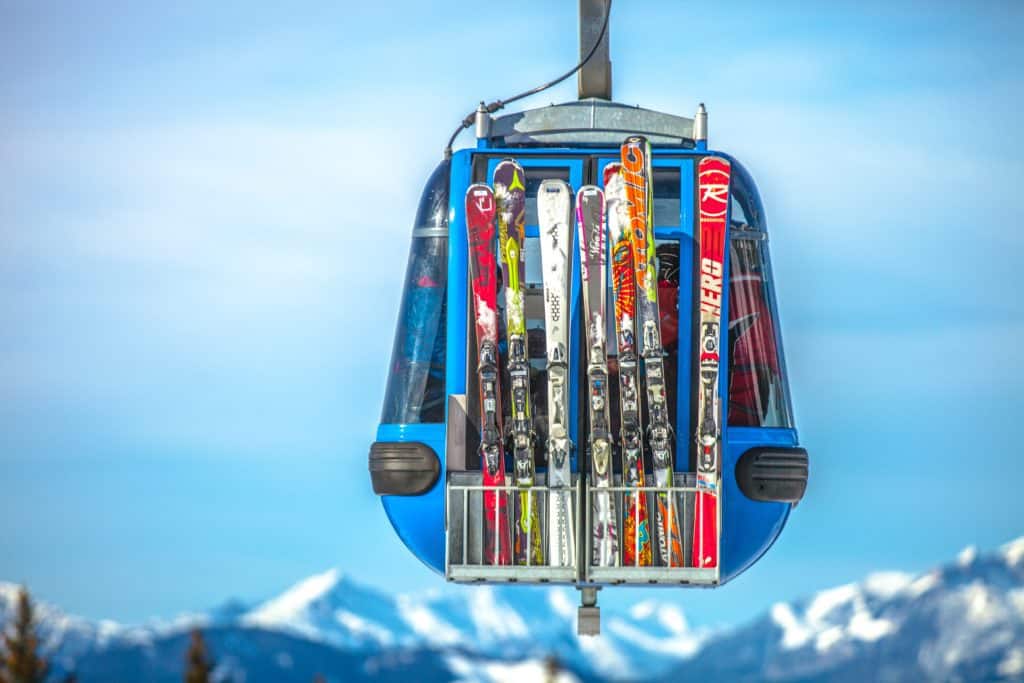 What Length Skis Should I Choose?
When recommending ski length, we often see lengths quoted as a measurement in relation to a skiers height. As a general rule of thumb, it is recommended for a skier to choose a ski which will come up to between the chin and the top of the head.
However, although skier height is an important factor, it's not the only factor and the above rule is just a rough guide. When deciding on the length of a ski, we also need to take into consideration weight, terrain, skier style and skier ability.
For example, within a given height range, if you are heavier you typically want a longer ski. Long skis are good for going fast, short skis are better for going slow. Long skis are preferred by ski racers whereas short skis are preferred by beginners.
Let's look at this in a little more depth.
Long or Short Skis?
Skis may be considered long or short relative to a persons height. There are several pros and cons to having longer or shorter skis.
Long skis are stable at speed and offer good float in deep powder. However, they are more difficult to manoeuvre, especially at slow speeds. Short skis are light and easily produce short, sharp turns. However, they lack stability at speed.
Benefits of longer skis
Long skis:
Generally have a longer turn radius, allowing for long, sweeping turns. (There are other factors which affect turn radius, such as flex and sidecut)
Are stable at speed since there is a longer edge in contact with the snow.
Travel faster (I won't delve into the complicated science behind this here!)
Offer more float in powder because there is a larger surface area.
Why Choose a longer Ski?
Long skis may be more suitable if:
You are a strong, expert skier
You ski deep powder, steep terrain, open bowls or like to charge hard
You are heavier set, relative to your height
Benefits of shorter skis
Short skis:
Are easier to learn on because they are lighter and more manoeuvrable .
Tend to have a shorter turn radius, allowing for quick and easy turns.
Are easier to turn at slow speed.
Travel slower (which may be beneficial as a beginner)
Why choose a shorter ski?
Short skis may be more suitable if:
You are a beginner
You are recovering from injury, are a senior skier or are just wanting to take it easy.
You are skiing bumps, choppy terrain, tight trees or park
You are light relative to your height
Pro tip: Skis with a rocker profile at the tip and/or tail will tend to behave more like a shorter ski, so you may want to consider a slightly longer ski if this is the case. Learn more about rocker skis in this guide.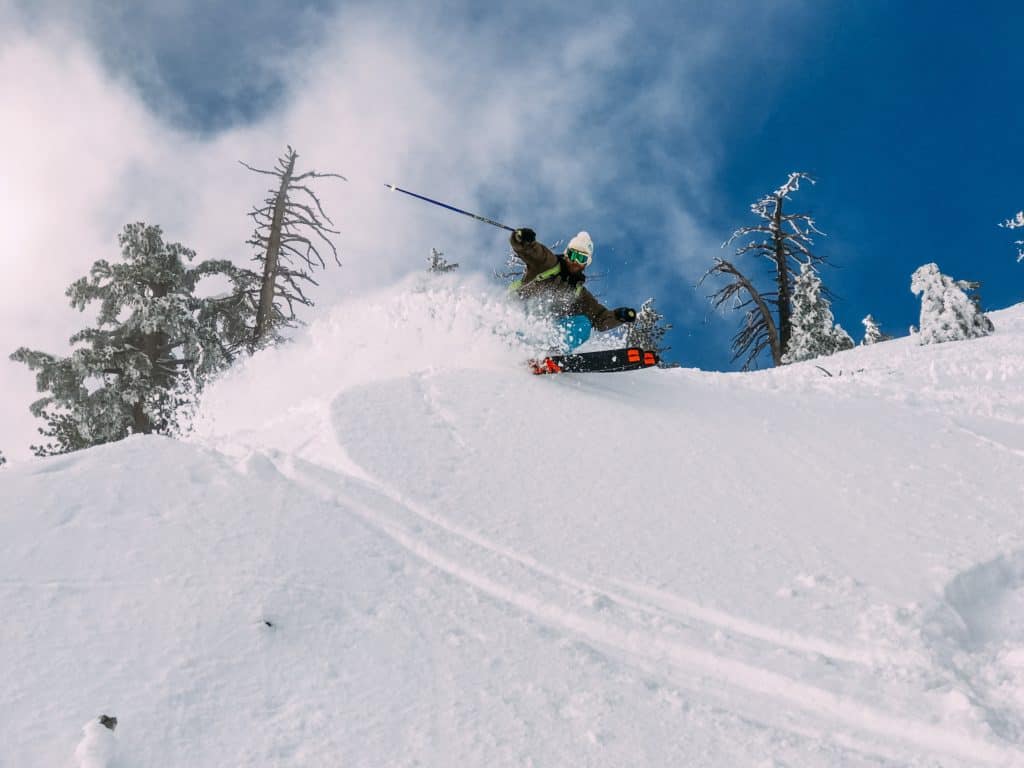 Ski Width
The width of a ski varies along its length. Generally the width underfoot will be quoted in mm and it refers to exactly that – how wide the ski is at the narrowest point underfoot.
Because of the sidecut on skis, the width will vary along its length and the dimensions will often be shown on the skis specifications in a three number format. This refers to the width at the widest point at the tip, the width at the narrowest point underfoot and lastly the width at the widest point at the tail.
This gives you the width profile of the ski and will also hint at the level of sidecut.
Narrow skis are more suitable for carving on piste and in combination with camber hold a turn on a hard piste. They are easier to learn on but don't provide much float in deep powder. Super wide skis (120mm+ underfoot) are specifically designed for skiing powder and in combination with rocker at the tip and tail (possibly full rocker), will give the ski plenty of float in deep snow. However they won't give much grip or hold on a hard packed piste.
Benefits of wider skis
The wider the ski, the more float you will get when skiing in deeper snow.
May offer a more versatile performance in mixed snow conditions.
Best suited to skiing off-piste, powder snow.
Benefits of narrower skis
Easy to learn on.
Transition between turns will be quicker.
Easier to hold an edge in a turn.
May be faster.
Better grip in hard or icy conditions (in conjunction with camber)
Best suited to skiing on piste and ski racing.
Skis with a width in the middle of the overall range will tend to have versatile performance across a variety of conditions.
Related Reading
What Size Skis Do I Need?
To help steer you towards the correct ski size, I have compiled the following table. Please use this table as a guide only, as some skiers may prefer a very different dynamic from their skis. Be sure to consult the ski manufacturers specifications and recommendations and listen to advise from the ski shop.
Suggested ski lengths are shown in the table below as a dimension in cm compared to the skiers height. For example (+5cm to + 10 cm is 5 to 10 cm longer than your height).
In general, aim for the upper end of the range if you are a little heavier than average or a more powerful/faster skier.  The lower end of the scale will allow for more manoeuvrability especially at lower speeds.  For skis with rocker look at the higher end of the length range.
Suggested ski widths are also shown. Again please use these as a guide only and consider all aspects of a skis design to suit your personal style.
L  = Length
W = Width underfoot
Skier Profile

 

Piste

All mountain

Powder

Park

Beginner

L

-10 to-30

n/a

n/a

n/a

 

W

70-80

n/a

n/a

n/a

Intermediate Casual

L

-5 to -15

-10 to 0

0 to +10

-5 to -15

 

W

75-85

85-100

95-120

75-85

Intermediate Athletic

L

-0 to-10

0 to-10

-5 to +10

-5 to -15

 

W

70-85

85-100

95-120

75-85

Advanced

Casual

L

-5 to -15

-5 to -15

-5 to +5

-5 to – 15

 

W

70-85

80-100

100-120+

75-85

Advanced

Athletic

L

-10 to +10

-10 to + 10

-10 to +10

-5 to -20

 

W

70-85

80-100

100-120+

70-85
Skiers involved in competition will often require skis tailored to the different disciplines which may fall at the extreme ends of these ranges or slightly beyond. Some racing skis can be 60mm underfoot and really long, in the case of downhill skis.
Big mountain skiers may also look to skis at the extreme ends of the scale. Wide, long, powerful skis are needed for some serious lines on steep backcountry. Skis with a width of 120mm or more underfoot should only be considered for those constantly seeking powder.
Ski Size Summary
Which ski length and width is best for you will depend on a number of factors. As a general rule it is recommended that the ski length should be between the skiers chin and the top of the head, however this is only a rough guide.
Which ski length to choose will also depend on a number of other factors which include skier weight, style, ability and the snow conditions. When selecting the right ski we also need to consider all aspects of ski design such as sidecut radius, camber and flex and how these work in conjunction with the length and width of a ski. 
For more tips on choosing the right ski for you, take a look at this guide.
When it comes to ski width, narrow skis are best for beginners and for carving on groomers, whereas wide skis are better suited to powder conditions.
In order to find the right length and width combination to suit your preference, it is a good idea to try out a few different combinations. If the opportunity arises to try out different skis, whether on a promotional day or through renting then jump at it, especially as you improve your technique.
Unless you are planning to have several sets of ski, the best advise is to aim for a ski with which you will have the most fun, in the conditions you tend to ride the most.