Ski edge sharpening or ski edge tuning is a process that needs to be carried out in order for skis to perform at their best. Maintaining sharp edges on skis will ensure optimum grip when carving turns, especially on hard packed pistes or in icy conditions.
New skis have razor edge edges but will soon loose their grip, especially in hard conditions or if there are rocks sticking out of the snow. Repairing any wear or damage to ski edges regularly will ensure you get the best experience on the mountain. Therefore sharpening your ski edges should be regarded as routine maintenance and carried out regularly.
In this post I provide a step by step guide on how to sharpen skis and provide suggestions on tools to get you started.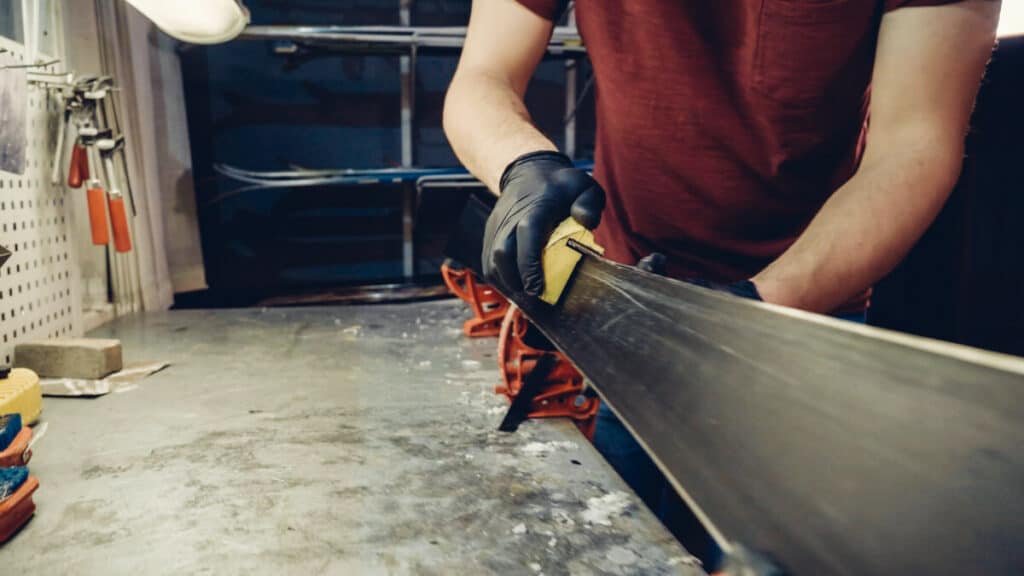 Disclaimer: Some links in this article are affiliate links, which means that if you purchase through them I receive a small commission, at no extra cost to you. This helps cover the cost of running this blog. Thanks for your support!
How Often Should I Sharpen Ski Edges?
How often you sharpen skis will depend on the amount of time you spend skiing, the snow conditions and how hard you ski. For those who ski more than just a week or two a season, then giving them a full service regularly throughout the season will be a good idea.
If skiing pristine powder day after day, it is unlikely you will need to sharpen edges much at all. However, in hard icy or rocky conditions the edges will be very prone to damage and loosing their edge so will require regular tuning.
If skiing regularly on groomed resort runs, a quick tune every 4 or 5 days would be ideal for optimum performance.
The more often you sharpen your skis the easier it will be to do, so don't wait until you can no longer hold an edge when carving turns. If done regularly, sharpening your skis should only take 10 minutes and you are only looking to sharpen them, not file away the entire edge. 
For those spending time in the ski park you may want to reduce the sharpness of your skis in order to avoid catching edges on features or when landing jumps.
How Can I Check If My Skis Need Tuning?
To check the sharpness of your ski edges simply run your finger gently along the edge, being watchful for damaged areas or splinters caused by rock damage. If the edge feels blunt, like a blunt knife, it needs sharpening. Do this regularly and you will soon get a feel for the sharpness of your edges. Alternatively, if you find you can't hold and edge when carving, this is also a sure sign to check those edges.
In all cases, I suggest giving your skis a complete service at least once a year, including hot waxing and edge tuning. This might be done at your local trusted ski shop but it is something you can easily learn to do for yourself.
It will also advantageous to have a simple sharpening tool in your kit bag so as to give them a quick once over every few days, depending on how the conditions are. Having a few simple tools also allows you to repair minor damage either on the hill or at the end of the day.
Read Next
Step By Step Guide to Sharpening Your Ski Edges
Before you start, please be aware there are two sides to each edge – the base edge and the side edge. The base edge lies along the bottom (base) of the ski and the side edge runs on the side of the ski. The base edge is usually 1 degree and the side edge varies from 90 – 86 degrees.
Step 1 – Secure the ski on the bench
Secure the ski on your bench with the base facing away from you and the edge you plan to work on at the top.
Step 2 – Deburr the edges
Using a flat file or gummy stone, remove any obvious burrs from the base and side edge bevels, being careful not to damage the edge or remove too much metal in the process. Use steady strokes parallel to the edge with minimum pressure.
Base bevel edges are pre-set when you purchase your ski and don't need re-setting. This step is to simply deburr the edges, rather than setting in a new edge. However, if you require a finer finish to the base bevel, then using a suitable base bevel edge sharpening tool or dual edge tool is required.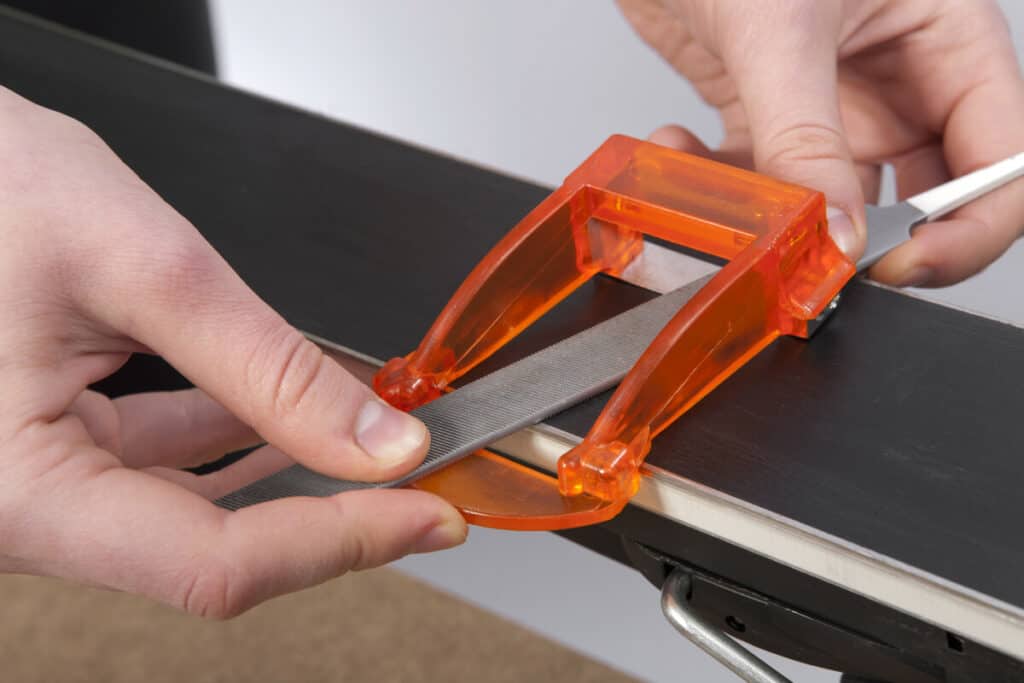 Step 3 – Set side edge angles on the tool
Set up your edge sharpening tool with the correct angle to suit your ski. To find the correct angle either check the ski specification, or check the angles guide below.
High quality sharpening kits will include a metal file and diamond stones which fit into you sharpening tool. The metal file is ideal for setting side bevel angles and repairing any damage. The diamond stones are ideal for maintaining the ski edge as they remove minimal material and the give a finer finish. 
When using the metal files and portable sharpeners containing metal files, be very careful not to use excessive pressure to avoid removing too much material from the ski edge. 
Step 4 – Sharpen the edges
Starting at one end of the ski, pull the tool along the ski in one direction using strokes with minimal pressure. It should feel as though the tool is cutting as it sharpens the edge. You will find that as the ski becomes sharp, the resistance met when you use the tool will reduce and the tool will glide easily along the ski. If in doubt go slow and steady keeping the tool flat against the ski base at all times. 
Once you have worked the tool along the entire length of the ski and you are happy that the edge has even sharpness along its length, you can move onto the other edge and then the other ski. 2 or 3 passes is usually enough.
If you are unsure whether you have sharpened the entire edge, using a marker pen colour in  the length of the edge. When you file the edges you will quickly see any parts you have missed.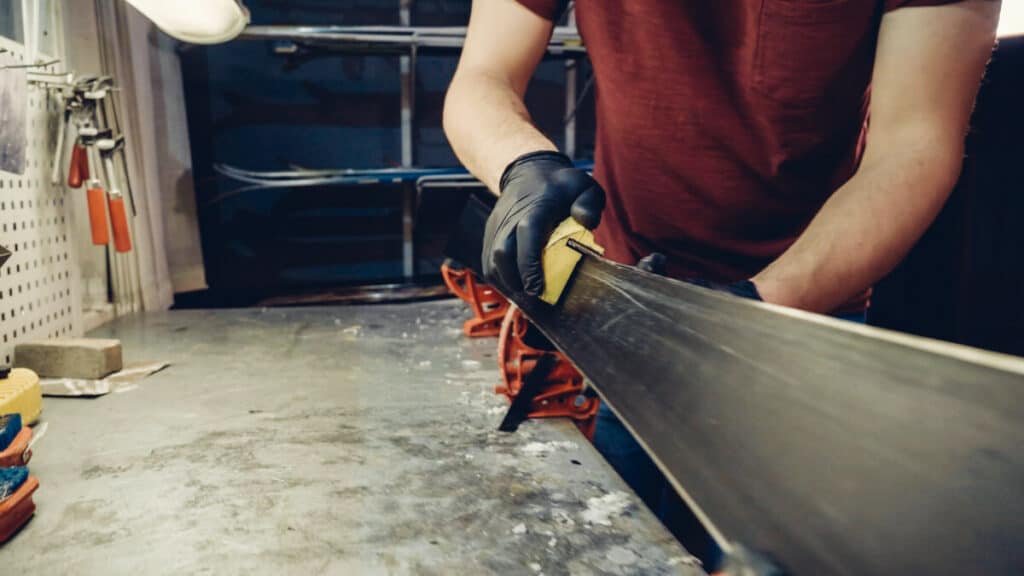 Step 5 – Polish the edge with a diamond stone
Using the diamond stone in the edge tool, gently run the file back and forth along the side edge until you feel decreased and even resistance.
Once you have perfected the technique then it will be easy to sharpen your skis little and often to keep them in optimum condition. In this case it should only take 10 to 20 minutes to complete the job. If you keep your edges regularly sharpened then it is possible to maintain them with very simple equipment and minimum effort. 
Next Steps
While you have your skis on your bench, now might also be a good time to give them a hot wax. Hot waxing is very easy to do yourself and is very rewarding.
Repairing the base of your skis is another job you can do yourself with a little patience and some relatively low cost equipment. As frustrating as it is to hit a rock first day out on your new skis, all is not lost as repairs are relatively simple to carry out yourself. For big core shots especially close to the edges I would suggest taking them to a professional in order to get the best possible repair. (At least until you have become more proficient)
If all this sounds too technical and time consuming there are plenty of ski technician in ski shops around the world who will be more than happy to sharpen your edges, repair and service your skis as often as you like for a reasonable fee. Theres no shame in supporting your local hill in this way either. 
What Do I need to Consider When Sharpening Ski Edges?
The Angles – There are 2 angles to consider
To sharpen edges at home you need to invest in the following tools.
1. Bench and/or clamps
First and foremost you will need to be able to secure your skis to a solid bench or table in some way. A custom built ski bench is ideal however you may not have the budget or space for such a thing. One cheap and effective solution would be a Black and Decker workmate. You might even have one at home already.
There are also purpose built clamps available which can convert most benches and tables into a ski and snowboard workshop. Swix ski clamps are one of the best options, or for a more cost effective set of clamps try ones made by Xcman (Take care not to wreck your antique dining table in the process!)
We also found a cool gadget for holding skis firm by a lesser known brand called Happy Norwegian.
It is also important to remember that sharpening skis will produce particles of metal so make sure you are in an environment where it is easy to sweep up any mess produced or have a very good vacuum cleaner at the ready.
2. Ski edge tool with sharpening file
For sharpening the skis themselves there are a lot of specialised sharpening tools and kits available. Some are very portable making them ideal for taking on a ski trip and which are quick and easy to use. These are also ideal if you hit a rock and just need a quick fix.
For a more precise job, there are more complex tools which are best used at home where a bench or solid table is available. Alternatively, there's even a highly rated electric machine that really speed up the job.
3. A flat file, gummy or base bevel tool
A file or gummy stone is needed for deburring the edges and a base bevel tool is required if you need to set the base edge. The gummy stones need not be expensive
What you might find in a sharpening  kit
An Edge tool with guide.
An Edge sharpening stone or selection of stones.
A Flat file.
A rag.
Recommended Ski Sharpening Kits
With so many ski sharpening tools and kits on the market it may not be so easy to choose one. Portable sharpeners are great for a quick fix on the hill or between services but if you plan to carry out regular sharpening of your skis at home for best result, a more technical stable tool is advisable. 
For a complete guide to ski sharpening tools see this post, but for now here are a few quick suggestions.
1. Good Portable Options
2. Good Quality Workshop Tools and Kits
3. Electric Machines
4. Base Bevel Sharpening Tools
Sharpening Ski Edges Summary 
Having sharp ski edges will ensure maximum enjoyment on the hill, especially in hard packed conditions. Most ski resorts have shops that offer edge sharpening, repair and tuning, however over the course of a season this cost can add up.
With the correct tools, ski edge tuning can be done at home with relative ease and speed. The equipment required doesn't have to cost a fortune, in fact there are plenty of simple yet effective tools that can do a great job on those edges with a little know how. 
Follow the steps above and you'll be well on your way to having razor sharp ski edges once again. Be sure to practice on an old pair of skis before taking on your latest all mountain chargers.