Whether it's buying your first set of skis or adding a pair to your collection, there are a few things to consider before making that all important final decision.
When buying a new pair of skis the first thing to consider is your current ability level and the second thing to consider is the type of skiing you will be doing (ie which terrain and snow you'll find yourself on).
Ski design incorporates many features which include length, width, camber profile, stiffness and sidecut radius. These features alter depending on the type of terrain and snow the ski is intended to ski on. For example, a powder ski will typically be wide and flexible with a rocker profile whilst racing skis will typically be long, stiff and narrow.
From cruising the resort with kids to blasting through deep powder in the back country or getting big air in the park, there are skis for every ability and occasion.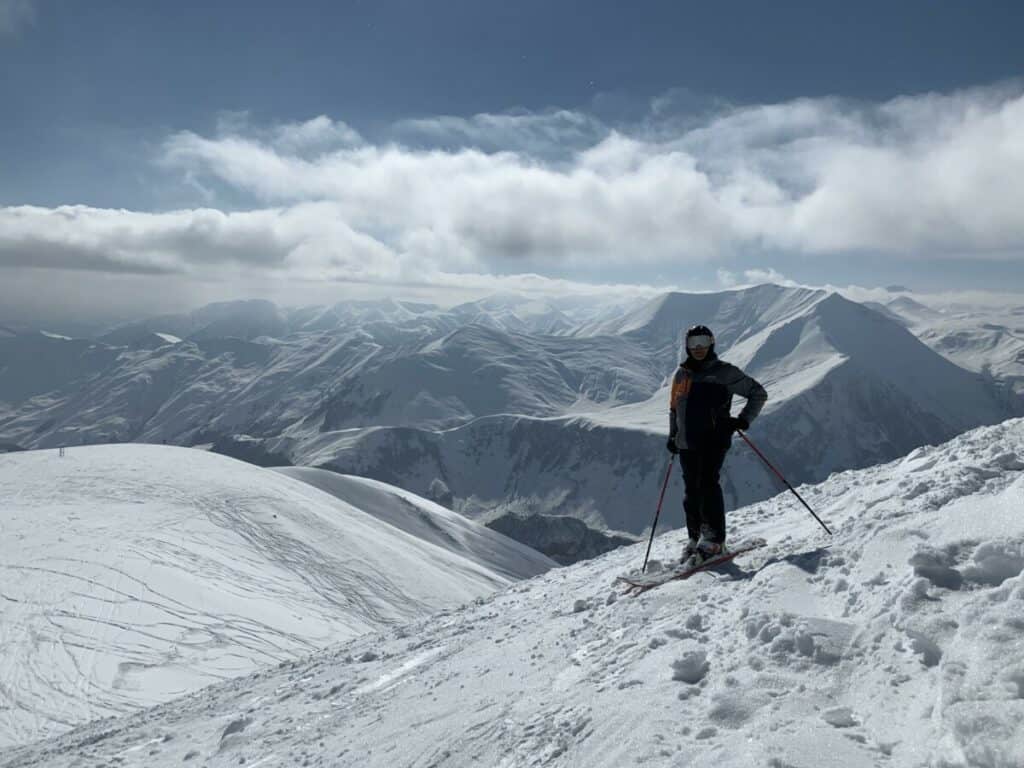 Disclaimer: Some links in this article are affiliate links, which means that if you purchase through them I receive a small commission, at no extra cost to you. This helps cover the cost of running this blog. Thanks for your support!
Ski Terms And Technology
Modern skis come in a myriad of different specifications and dynamics, along with a multitude of terminology to boot.
Before we delve into which type of ski is suitable for each ability and level, let me briefly explain some of the factors involved in ski design.
These include:
All these factors are combined with modern materials to create the modern ski.
It's definitely worth having a basic understanding of these terms and how they influence ski performance, before you start looking for a new pair of skis.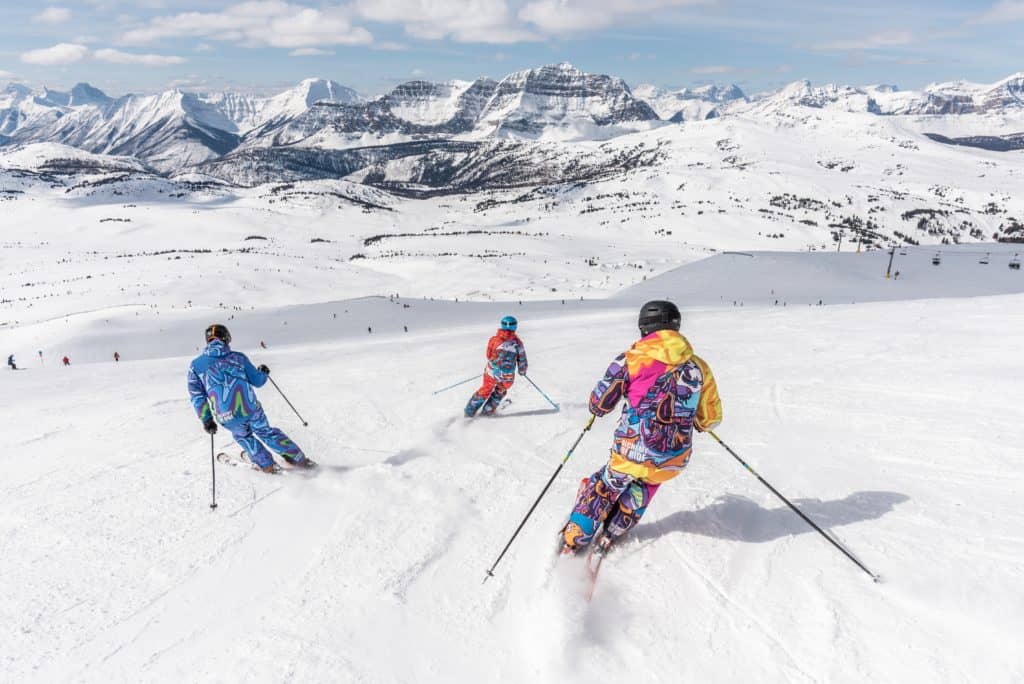 How To Choose Skis – Which Types Of Ski To Consider
To make selecting new skis more straightforward, we can describe them in such a way as to highlight their main attributes.
Beginners skis –  These will be particularly easy to learn to ski on. Traditional or hybrid Camber.
Piste skis  –  Will be perfect for making accurate turns on firm pistes. Traditional Camber.
Race skis  – Will allow a skier to make fast, powerful turns on hard pistes. Traditional Camber.
All mountain skis –  A versatile ski that performs well in a wide range of snow conditions. Hybrid Camber
Powder skis – A ski designed to give float and control in deep snow. Hybrid Camber.
Park skis – Playful skis designed specifically for performing tricks and jumps. Hybrid Camber plus twin tips.
Big mountain skis – These will be skis used for big, steep extreme off-piste.  Hybrid Camber (Possibly Flat or Rocker)
To help you select the right ski, we will first look at some key points of difference.
Gender
Skis are manufactured to be gender specific so as to be best suited to male and female body types. It's not just about the colour and graphics on the ski. Many models of ski will be manufactured in mens and women versions.
For example, womens skis are typically (not always) shorter and more flexible. This allows for the difference in biomechanics between women and men.
The Elan Ripstick is a women's specific ski 
Age
There are also skis specific to certain age groups. For example, there are skis specifically for children of various age groups and then there are adult skis.
Skier type or level
The type of skier you are will dictate what type of ski you will get the most enjoyment from. You won't know what type of skier you are as a beginner, since you're still just trying to figure everything out. Once you reach intermediate level you can begin to develop your skier type.
Skier type will influence the type of snow and terrain you find yourself skiing on.
Let's dive into this a little deeper.
What Type Of Skier Are You?
Here are some typical skier profiles and some suggestions to consider when buying skis.
Complete Beginner
A beginner skier is someone who is new to the sport. They are working on technique, fitness and will most likely be spending time in ski school.
I would suggest total beginners will most likely be hiring skis and the local hire shops will supply the type of ski well suited to learning. These often fit the ethos of the local ski school.
Beginner skis tend to be fairly short, quite flexible and have a sidecut/profile conducive to easy turns and control. A little rocker at the tip and tail may make turns easier,  but camber underfoot will be essential for learning to ski properly and in control. Most beginners will start learning on a very forgiving piste ski.
Make sure you select the correct ski binding to match your skis! Learn more in this guide.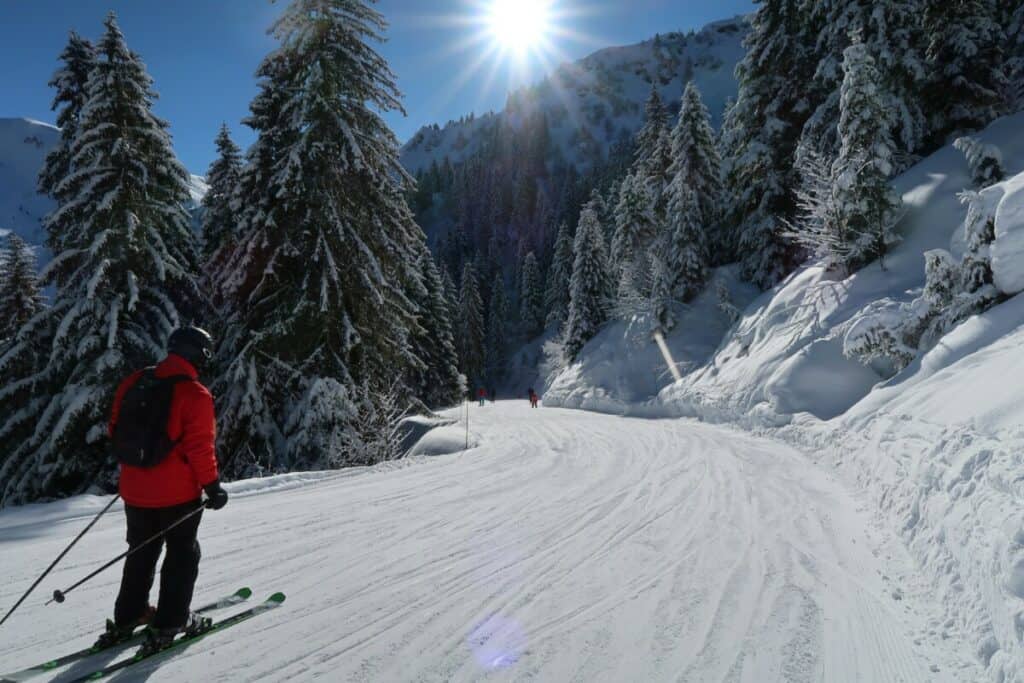 Intermediate Skier
For a skier early in their development I would recommend attending ski school and renting a pair of piste skis or a piste-oriented all mountain ski. Taking some private lessons on your own or with a small group of friends might also be a great idea. You can always ask the rental shop or local ski school what ski will best suit the teaching methods on that hill. 
A full camber ski will require you to learn the techniques properly while a ski with some rocker at the tip may make the skis enter a turn a bit easier, be a bit more forgiving and allow for some off-piste practice if necessary. 
Once a good technique has been mastered then choosing the next ski will be led by personal preference. Hopefully your ski school will introduce you to some off-piste experience along with solid piste technique, so that when you move on to the next level you are better placed to decide what kind of skiing you want to do and therefore which ski to choose.
If there's good powder around then you might feel its time to master off-piste technique, in which case an all mountain ski will suit your needs. I would suggest sticking to a ski with camber underfoot but initially with a little tip rocker. 
Casual Piste Skier
This could be someone who simply likes to cruise round the resort in the sunshine, taking in the scenery and exploring. Likely an intermediate to experienced skier or an older skier. Skiers spending 1 or 2 weeks skiing each year with the family or weekend trips.
Traditional camber piste skis will be perfect for casual piste skiers, unless you are planning to venture off the groomers in which case go for an all mountain ski.
Casual skiers will possibly have a trusty pair of their own skis but many still prefer to rent. These days, good rental shops will stock a decent range of options. If there's a fresh dump of snow you could always trade in your piste skis for an all mountain pair for a day or two (there might be an additional cost but its probably worth it).
Casual skiers who like getting off the groomers will benefit from an all mountain ski. I would suggest selecting skis which still have a solid on piste performance and enough camber underfoot to offer secure hold on firm pistes. 
For those who will predominately stick to the piste then pick a standard carving ski with a medium to high sidecut radius and plenty of camber underfoot. Select a width underfoot of 70-85cm for fast transitions between turns.
Choose a standard length for your height (see ski length guide for more information on this) and a ski that's not too stiff (unless you are super fit and athletic). Bear in mind that a high performing, stiff racing ski will be exhausting if out on the mountain all day so avoid these unless you are really fit and strong. Too soft however and the ski may chatter at speed.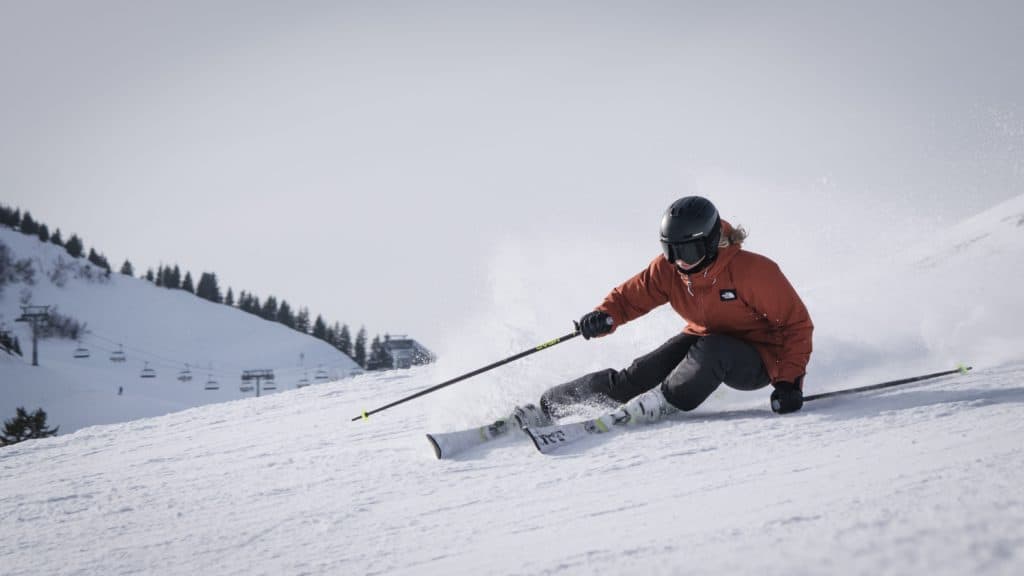 Advanced skier
Experienced skiers will need to buy skis that best suit their needs, whether it's an all round, every day ski or something specific to particular snow conditions.
Those looking to head off the groomers in search of powder or to further explore the resort should consider something like an all mountain ski. All mountain skis do come with a compromise though – they most likely won't hold an edge as well when skiing on the groomers as a piste ski and they won't float as much in powder as a full on powder ski. But they should be great powering through mixed snow conditions commonly found in and around the resort and an ideal choice if you just want one pair of skis to enjoy your day.
There are many so called all mountain skis available these days. Some are essentially piste skis that are also quite good in mixed conditions and others are off-piste skis that can handle themselves quite nicely on the piste also. Assess where you spend most of your time and pick an all mountain ski at that end of the spectrum.
For those advanced skiers who stick to the groomers to perfect their carving turns or even enjoy some ski racing, then a full on piste ski will be required. Piste skis are narrow to allow for fast turns and have a traditional, full camber profile. These come in a variety of performance levels, so it will be important to select a ski which will reflect your aspirations. Strong powerful skiers will require a stiff ski. 
However here's where it can get interesting as it might be time to consider a selection of skis.  One more powder orientated and the other more of a piste ski and/or an all mountain ski.
Since I may have now offered more questions than answers, this is where personal preference comes in! I think improving skiers will definitely benefit from trying a few options out before settling on a particular ski as the choice is limitless.
More experienced skiers will most likely be looking to have a choice of ski at their disposal in order to make the most of the current conditions.  
Hard Charger
These skiers may or may not stick to the piste, but tend to ski in a more athletic manor ie. skiing hard and fast. They may look for powder stashes and jumps, or race down the runs making powerful turns. 
The choice of ski here should reflect the style of skier and conditions. A high quality all mountain ski would be suitable for those who ski all over the resort, on and off piste. A traditional camber piste ski or race ski is more suited to those preferring to carve big turns on the piste or practicing for the next competition. 
In deep powder, a big mountain ski which is wide and stiff may be the way to go.
Park/freestyle Skier
Park skiers love doing tricks and jumps, spending much of their time in ski parks perfecting their craft. The best skis for freestyle are twin tips with a specific hybrid camber profile. These allow the skiers to ski equally comfortably travelling forwards and backwards.
Freestyle skis have plenty of pop for taking on kickers and doing various tricks. Park skis will often have thicker edges suited for taking on rails and boxes.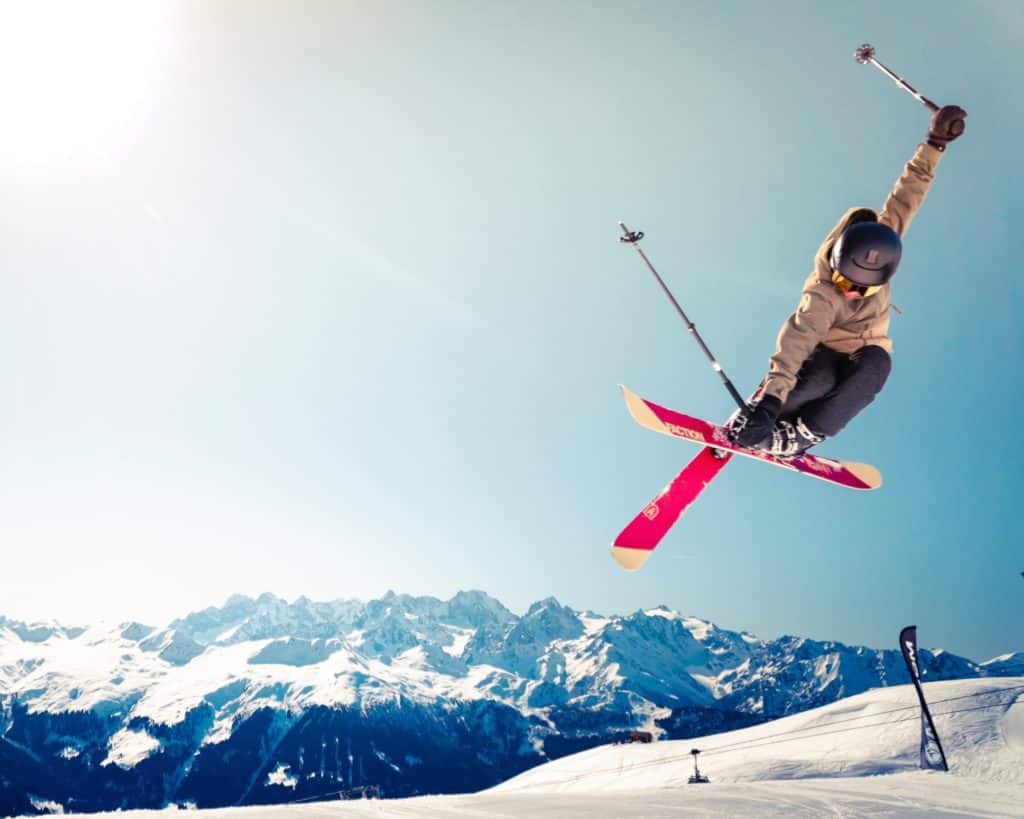 Ski Racer
Ski racers guys want an out and out racing ski which are very long, narrow and stiff. These skis are very specific to specific racing disciplines and aren't suitable for much else.
Top Tips For Choosing The Right Skis
Pick a ski to suit your skier type
When choosing new skis, pick a ski to suit the terrain you enjoy to ski on. So for example, if you like to ski park then pick a freestyle specific ski. If prefer to cruise the groomers then pick a medium stiffness piste ski.
If you like doing a little bit of everything then pick a ski designed for the environment where you'll spend most of your time. Or simply opt for an all mountain ski.
Choose a ski to suit your ability
Also pick a ski with features which suit your ability and will maximise your enjoyment. So for example, try not to pick a ski which is too stiff or too long, as choosing a ski which is beyond your ability level will ultimately make skiing less enjoyable. Thats not to say go for something too easy either, as it is good to have a ski that will help you develop as a skier.
Read Next | Discover the best ski boots for you in this guide!
Pick a ski to suit your location
If you are skiing in Japan or other places where powder is legendary, then I would suggest a wide powder orientated ski would be a no brainier to have in your locker. Either a wide all mountain or a full powder ski.
For the notorious, rock hard groomers of the east coast, a piste ski with camber would make more sense.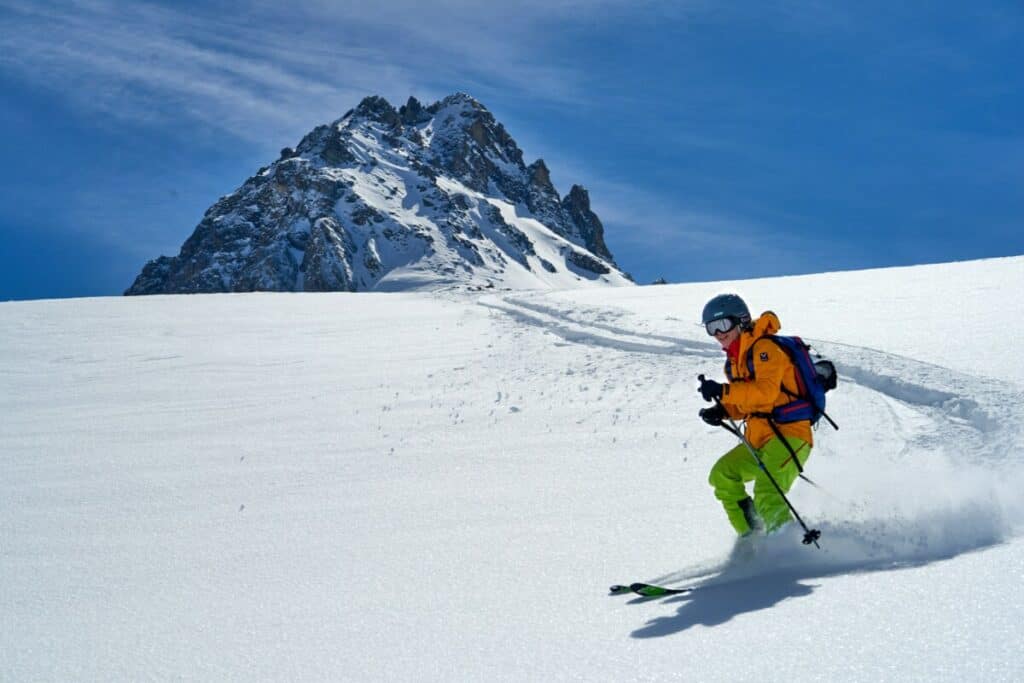 Take advantage of test days
Check out test days offered by ski manufacturers at resorts from time to time. These give you the opportunity to try out the latest products and the technicians on site will be more than happy to help you pick out the right ski for your needs.
Another way to try out different set ups would be to hire a specific pair of skis for a day or two in certain conditions and get a feel for how they work for you.
If you are testing out a new ski, consider all aspects of how the ski feels, down to how you feel at the end of a day skiing on them. There's no point going for a super stiff "mountain slayer" just because it looks or sounds cool. Opting for something a little less aggressive or just easier to live with might unlock a new world of enjoyment. 
Don't get sucked in by the hype
Big wide powder skis might look cool and be great on those special days making fresh tracks, but on nearly every other occasion a more versatile all mountain ski would make more sense. It might be a good idea to simply hire a pair of powder skis on those special days as they might not happen as much as you would hope.
Read ski reviews
There are some great reviews on Google and YouTube for just about every ski ever made. Its well worth finding out what regular people are saying and not just relying on the manufacturers blurb.
Ski Buying Summary
Ski design incorporates many features which include length, width, camber profile, stiffness and sidecut radius. These features alter depending on the type of terrain and snow the ski is intended to ski on. For example, a powder ski will typically be wide and flexible with a rocker profile. Racing skis will typically be long, stiff and narrow.
In order to decide which ski to buy, you need to know what your ability level is and what type of skiing you enjoy doing. Based on this knowledge you can then select the ski profile that will best suits your needs.
You can still have fun skiing with any ski in any conditions so don't beat yourself up if your mates skis are better suited to the snow on that day. The best skis available are the ones you are currently clipped into, enjoy the moment. Every dog has its day.