There's nothing worse than skiing in uncomfortable ski boots. Having quality, well-fitting boots can make or break your skiing holiday and determine whether you persevere with the sport.
Whether you choose to rent or buy your boots, it's important to understand the dynamics of ski boots in order to get a good fit. 
For beginners new to skiing or skiers who spend just a week each year on the slopes, hiring equipment is a cost effective solution. However, there are a number of drawbacks to this. 
For those who ski regularly, investing in a good set of boots is a must. However, selecting the correct ski boot is crucial. 
When buying ski boots for the first time, the two main factors to consider are size and flex. Size includes length, width and foot shape and the flex is affected by skier ability and skier type.
In this guide I explain how you can choose the best ski boots for you.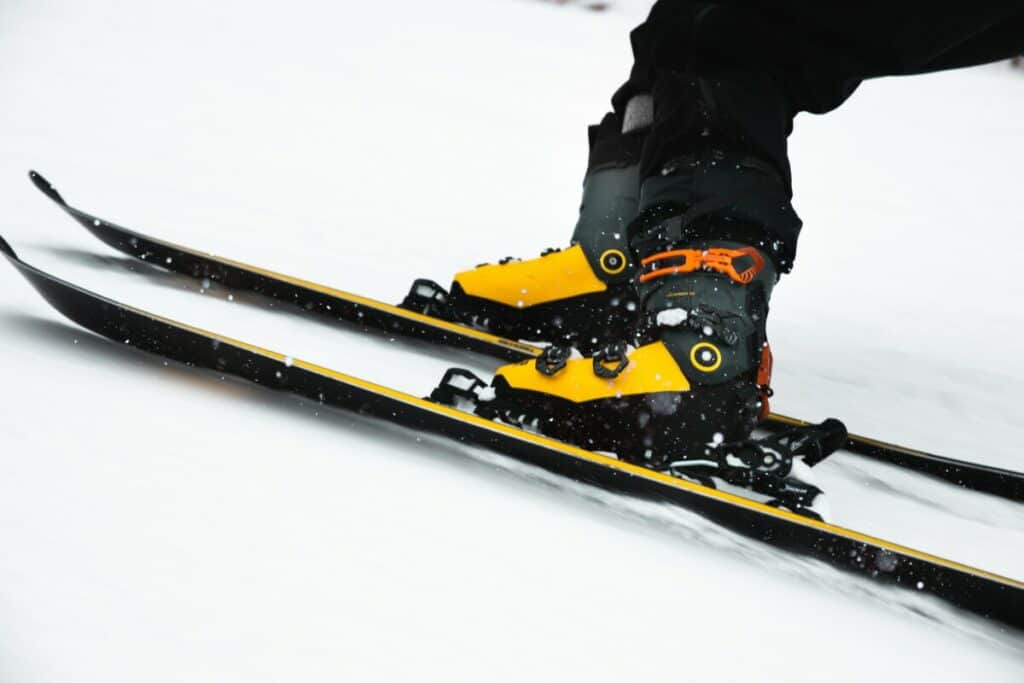 Disclaimer: Some links in this article are affiliate links, which means that if you purchase through them I receive a small commission, at no extra cost to you. This helps cover the cost of running this blog. Thanks for your support!
Ski Boot Design – How Do Ski Boots Work?
Before we get stuck into factors that affect ski boot choice, it's important to understand just a few basics of ski boot design and technology.
Gone are the days of leather ski boots with laces. Modern alpine ski boots are made of high-tech, man-made materials such as plastic, polyesters, aluminium, and even carbon fibre.
There are several components to a modern boots:
Outer shell made of moulded plastic which provided the structure and rigidity of the boot. This is what makes ski boots stiff.

 O

n the base are lugs (toe and heel), which engage with ski bindings to hold the boot tightly to the ski. These can be replaceable on some model of boots (in case of wear).

The shell is secured around the liner by closures, usually in the form of clips, of which there are a few designs. Most modern boots will have 3 or 4 adjustable clips and most will have a power band at the top with a velcro strip which aids rigidity.

The liner takes the form of an inner boot which is removable for drying and which is well cushioned and insulated.

Inside the liner sits a footbed which is an insole which can also be removed and/or replaced. As with many hiking boots the insoles fitted may not be of the highest quality so it may be prudent to fit a high quality insole or orthopaedic insole for extra support and comfort. Personally I use the green super feet insoles as recommended by many ski shops. I use these in hiking boots also and find them beneficial.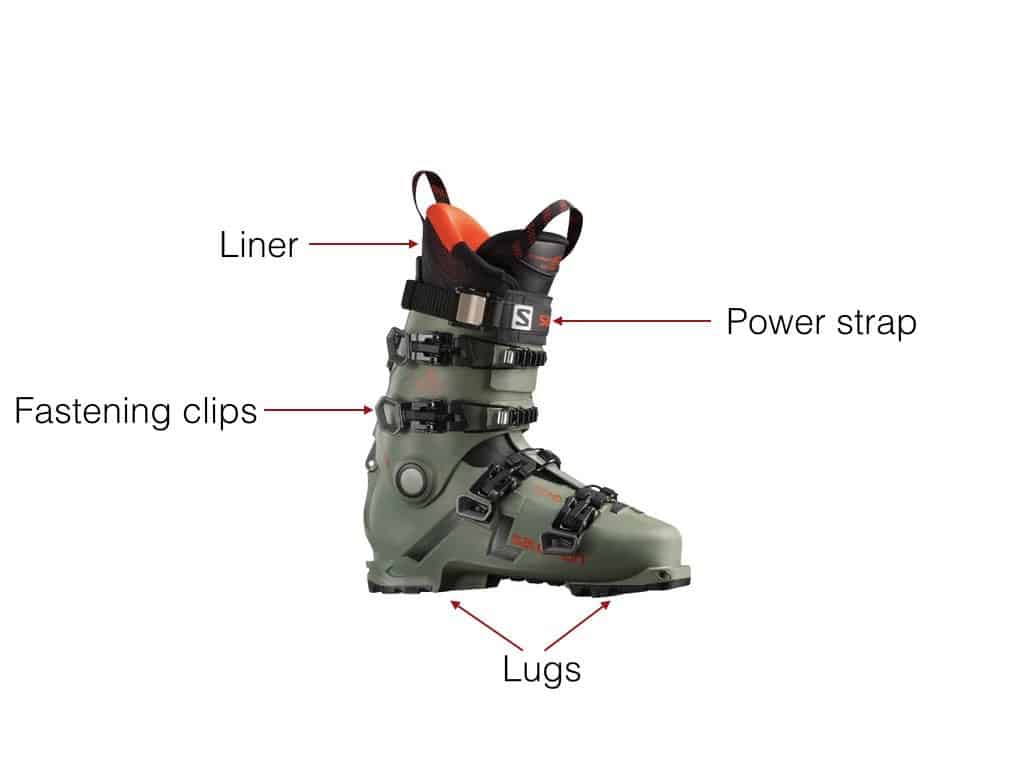 Factors That Affect How To Choose A Ski Boot
1. Boot stiffness/flex – How to choose ski boot flex
Ski boots are sold in various levels of stiffness/flex to suit different ski abilities and styles.
Ski boot stiffness is measured by a flex rating. This refers to how flexible a particular boot is. The higher the flex rating, the stiffer the boot.  It's important to have the correct rating for your ability and style of skiing.
For instance beginner boots will tend to be less stiff and thus, easy to use. At the other end of the scale a ski racer will use very stiff boots so as to have maximum support and control at the extreme end of a skiers performance.
Ability
Skier level or ability will influence the flex of a ski boot. A softer boot will bend easier, be more comfortable and generally easier to ski in. They are therefore best suited to beginners and low intermediate skiers. They're also more forgiving to walk around in which, as a first timer, makes for a much more enjoyable experience!
As technique and power increases the need for a stiffer boot increases. A stiffer boot will offer a faster response and more precise control, essential for advanced skiers on difficult terrain or ski racers traveling at break neck speeds.
It's important not to have boots that are too stiff as they can restrict how much a skier can bend their knees forward in order to get optimum performance. Also, painful shins can occur when boots are too stiff.
In this table I outline the flex ratings as they relate to skier level.
| | | | |
| --- | --- | --- | --- |
|   | Womens | Mens | Skier ability |
| Soft Flex | 50-70 | 60-80 | Beginner, comfort |
| Medium Flex | 70-90 | 80-100 | Beginner, Intermediate , Advanced. |
| Stiff Flex | 90-100 | 100-130 | Advanced , Expert |
| Very stiff Flex | 0ver 100 | Over 130 | Advanced,Expert, Race, Professional. |
Read Next | A guide to choosing ski bindings
Ski style/preference
As an intermediate skier or above, the type of skiing you enjoy will also influence the flex of the boot. If you like to ski steep terrain and carve hard, you will want a stiff boot to provide optimum support and response. If however, you prefer a more laid back day, cruising with your family, you will want a more medium flex, which is more forgiving and offers more comfort. If you like to ski park and hit the rails and jumps, you will want a slightly softer flex.
There are also specialist boots for different disciplines such as ski touring, where the skier needs to be able to hike as well as ski. In this instance the boot has the ability to flex for walking and also lock into a stiff position for skiing.
Nordic boots are very different and resemble hiking boots with the added facility to fit into nordic bindings. These  are designed almost exclusively for hiking/walking with skis on.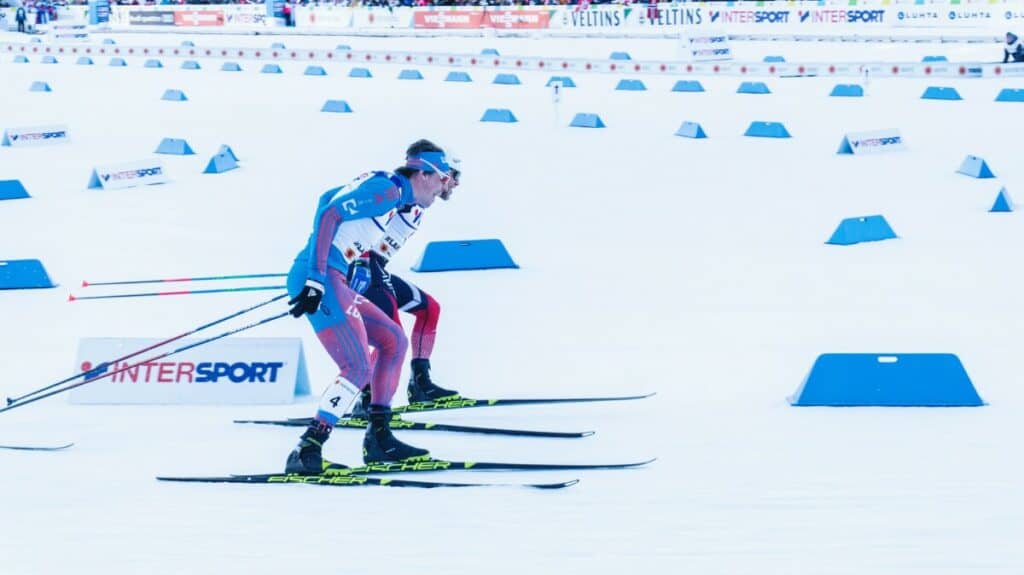 2. Ski boot size – How do ski boot sizes work?
Length
When it comes to sizing, ski boots refer to the Mondo or Mondopoint system. Put simply, this equates to the measurement of the longest part of the foot in millimetres.
The easiest way to measure this without a specialist tool is to stand on a piece of paper with your heels against a wall. Flex your knees a bit then draw around your feet. Then measure the length of your foot from your heel to the end of the big toe.
There are conversion charts available to convert UK, US and European sizes to Mondo sizes, but measuring will be more accurate.
A ski shop will accurately measure your Mondo size, as well as width size, in order to recommend the best size and fit of boot. Therefore, if you're buying your first pair of boots, I strongly recommend visiting a dedicated ski shop.
Width
The width of a ski boot is referred to as the last and the measurement for this is taken across the widest point of the foot.
It is just as important to get this sizing right as it is for the Mondo. High performance boots will tend to be narrow to aid with control.  Measurement will range from 92mm (Pro racers) to 104mm (people with really wide feet). If the boot is too wide you will loose control while skiing.
If you have wide feet you need to choose a ski boot with a wide fit such as the Salomon X Access.
Volume
Boots are often described as being low volume or high volume. This sort of another term for width, so it can help you to find a style of boot for you if you have narrow or wide feet. Some brands tend to make lower volume boots than others so you might find if you have narrow feet, the ski shop will steer you to certain brands which offer a better fit. 
Shape
One major consideration is foot shape, for example having high arches. So it's important to have your foot evaluated by a pro to ensure you buy the correct boot or brand of boot. Simply choosing a ski boot because of its brand or colour doesn't guarantee you'll have the right boot for your overall comfort.
Different brands of boot may have very different fit characteristics. People with narrow feet will be suited to narrow fitting boots (low volume) and a narrow boot will be hopeless for someone with wide feet. Therefore, be open minded to brand choice and be prepared to be led by the technician in the shop.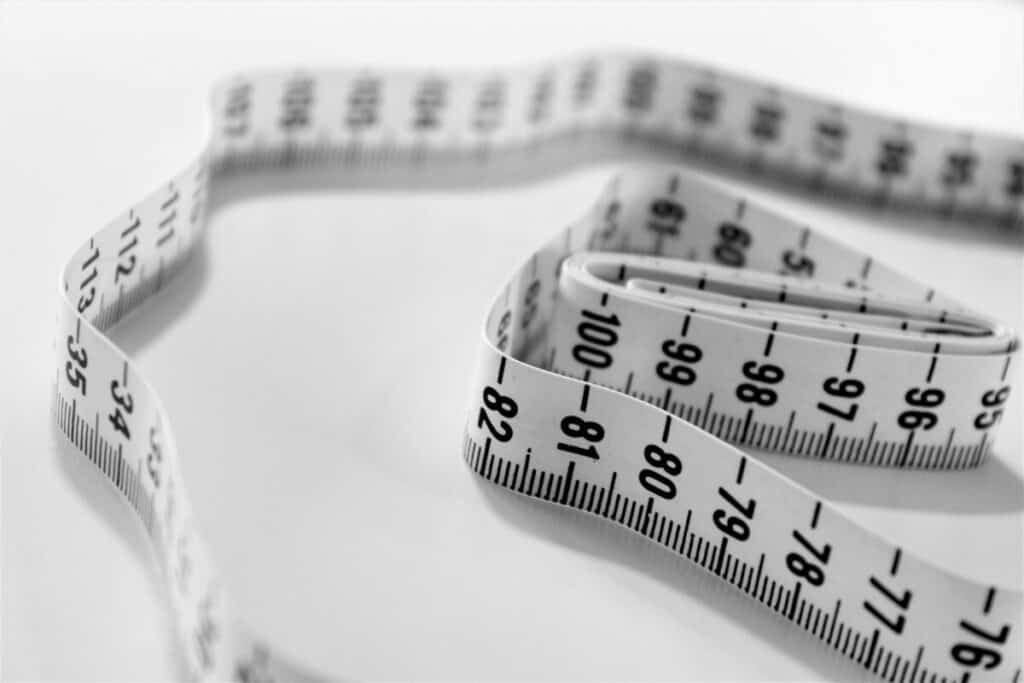 Ski Boot Fit
When trying on boots it's best to wear medium to thin ski socks to get the correct fit. The liner should provide you with enough insulation/warmth. You could always wear thicker socks in the future as the boots become a little looser.
Tip: When trying on new boots bear in mind that they will bed in a bit and become a little looser (possibly 10% – 15%), so its best if they feel a little tight when new. As a rule of thumb if a ski boot slips onto your foot with ease, there's a good chance it is too loose.
Your heels should be held firmly into the heel cup of the inner boot and in an ideal world there should be no heel lift. Your toes may be touching the end of the boot a little, but not cramped up. When your weight is pushed forward during skiing it should feel comfortable.
When tightening the boots, begin with the ankle or lowest shin clip first, in order to pull your heel firmly into place. Then tighten the rest of the clips in any order.
Tip: It's important to remember not to over tighten ski boots. The foot should sit snugly in the inner boot which is secured by clipping the shell around it. Over tightening the clips can cause localised restrictions leading to restricted blood flow, hotspots and general discomfort. 
If you find that, after fastening the boot correctly, it is still too loose, then the boot is not a correct fit for you.
Read Next | A guide to buying skis
Should You Buy Ski Boots?
As a complete beginner it doesn't make sense to buy ski boots straight from the get go. It's better to hire equipment, including boots first. Once you discover just how awesome skiing is, then you can begin to pick your ski boot!
Renting boots
When hiring boots make sure you hire the correct type of boot to suit your ability and style of skiing. If you are a beginner I would suggest something not too stiff in order to be as comfortable as possible. For experienced skiers hiring boots, paying a little more for the performance boot is a good idea.
It is crucial to get a comfortable pair, so if you find your hire boots give you pain or cramps, then take them straight back and get another pair because they won't get better with time. Be aware that any bedding the boot may have had when new is most likely long gone, so they are unlikely to get anymore comfortable with use.
It's worth trying on a few pairs in the shop and asking the technicians for help as required. The best time for any boot fitting is when the shop is not busy. That way the technicians will have more time for you.
Pro's 
Less luggage to take on a ski holiday.

Can choose level of boot to suit skiing ability.

Hire boots tend to stay current.

Can change uncomfortable boots (highly recommended).

A good way to try different type of boot.
Cons
May be difficult to get a good fit as boots have been on several foot shapes before.

May be uncomfortable, however good hire shops will change boots as required.

Not possible to have the boots heat moulded to your feet.

Hygiene issues. Even though good hire shops will dry and treat boots between uses, they may have had some pretty smelly feet in them at some point!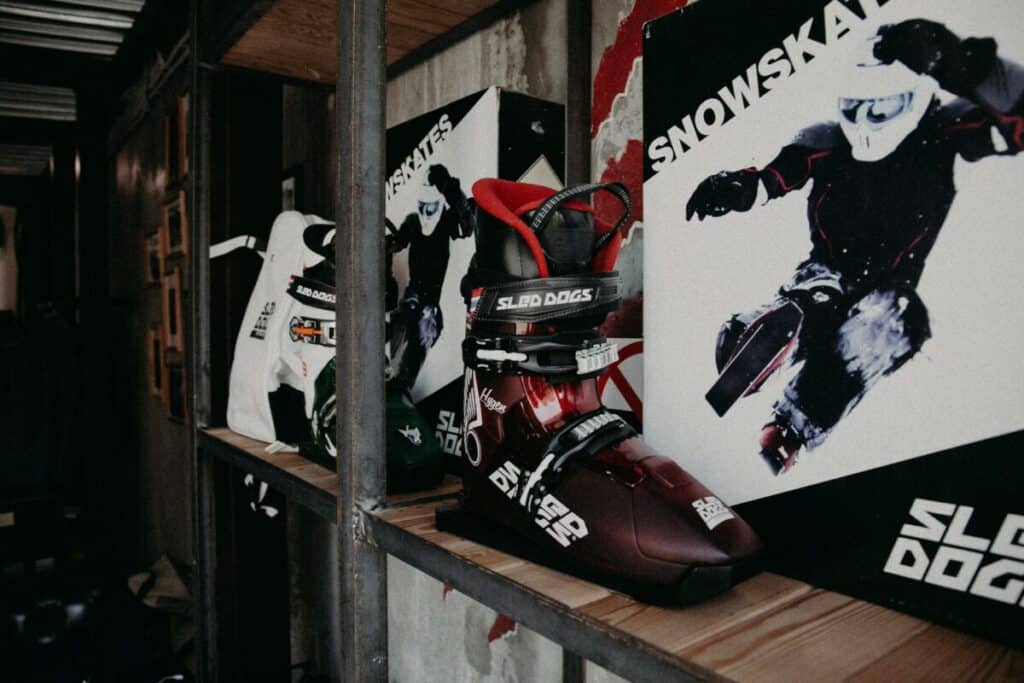 Buying New Boots
My advise with buying boots is to go to a reputable boot dealer for a professional fitting. Ski technicians are, or at least should, be skiers themselves and are trained to give you the best advise. You might find cheaper boots online but unless you know exactly what's the right boot for you it can be a gamble.
Modern boots are fitted using various high-tech methods these days including custom footbeds and heat moulding. This ensures your new boots are the best possible fit for your foot size from day one.
To optimise the fit, it is crucial to have the boots fitted professionally. You can also learn a lot by talking with the technician and not just about ski boots. Be honest with him/her about what you want from your boots and how you will ski. You won't do yourself any favours by ending up with super stiff racing boots when you are just starting your ski adventure.
Ski boots are very unforgiving and not something you can break in easily.  It can take time to get used to a new pair of boots, however if you find they are causing cramp or pain then its a good idea to pop into a boot shop and speak to a technician. They may be able to help you, even if they didn't sell you the boots (for a small fee naturally).
Pros
Can get a good reliable boot that is consistent and suits your style of skiing.

Especially

 

with modern fitting methods it is possible to get a super comfortable boot to suit your foot profile.

Ease of use.

Fashion. You can get boots to match your outfit and skis if you like to look smart on the slopes.

Brand preference. You may have used a particular brand of boot before and find them comfortable, easy to use, hardwearing or stylish. Often it is good to stick with what works well.

Hygiene.

 

unlike hire boots

 

your own boots will only ever have your feet in them.
Cons
Cost.

 

Ski equipment can get quite expensive especially for those who ski for only a week or 2 a season.

Extra luggage to transport and store.

Fashion. New styles are launched every year so for the fashion conscious you can look a bit "old school" faster than you'd hoped.
You might also like this post | What is ski flex/stiffness?
Compatibility
Although modern downhill ski boots are designed to fit modern bindings it is a good idea to check compatibility, especially if you plan to use an old set of skis with your new boots. Technology evolves over time. 
A more recent addition to ski boot design has been the development of Walk to ride(WTR) and Gripwalk systems which make modern ski boots easier to walk in and gives more grip on icy and snowy ground.
Whilst the WTR system appears to be being  phased out. The Gripwalk system is becoming more popular.  With these new systems in mind it is crucial when buying new boots to ensure that your ski bindings are compatible with these systems. Look for the logos on the boots, bindings and technical specifications of the produces being used.
Modern boots like the Rossignol Hi-Speed 120 HV GW feature Gripwalk technology.
Buying Used Boots
If buying new boots from a shop is too much of a stretch for your budget, it may be possible to buy secondhand boots from the likes of eBay or Gumtree. However, be aware that the plastic boots are made of is likely to degenerate with time, especially if not stored in good conditions. It can be dangerous skiing in old ski boots in case the plastic lugs, which connect the boot to the ski binding, break free and cause a potentially nasty accident.
Good deals may be possible but make sure the boot is not too old or had excessive use and appears to have been cared for well. Some manufacturers suggest the life of a ski boot to be about 200 skiing hours. You may well find the liners will fail before the shells and these may be replaceable.
Sometimes you might find boots that have been used for one week and the user has found them to be unsuitable for some reason, so a bargain might be found but like anything used, buyer beware.
Final Thoughts On How To Buy Ski Boots
As a complete beginner it may not be wise to buy ski boots before you've even stepped foot on snow. However, once you know you're likely to be skiing on a regular basis, the first piece of hardware you should purchase are you ski boots.
Comfortable, well fitting ski boots will make the biggest difference to your skiing enjoyment, therefore it's important to buy the correct pair. The two main factors that influence which pair of ski boots to buy are size and flex.
Ski boot length uses the unique Mondo system and to ensure the best fit, it's best to get your ski boots fitted by a professional. Ski boot flex is influenced by skiing ability and style. With these factors considered, you can be sure to pick the correct ski boots for you.