There are many factors that influence how a ski performs and therefore which type of ski to buy. One of those factors is ski flexibility.
Skis need to be flexible in order to retain as much contact with the snow as possible. The flexibility of a ski will act as suspension, soaking up the bumps and also giving the ski some spring where necessary.
The level of flexibility corresponds to how stiff the ski is. A stiff ski will require more force in order to create the shape required to make a turn and correspondingly a softer flex or less stiff ski will make the ski easier to turn.
In this guide I explain what ski flex is and how you can decide which level of ski flexibility is right for you.
Types of Ski Flexibility
There are 2 types of flex in a ski – longitudinal and torsional.
Longitudinal Flex
Longitudinal flex is the the flexibility of a ski along its length. This may be uniform along the entire length or it can vary along its length. For example a ski may be stiffer underfoot, with softer flex at the tip and/or tail of the ski.
The differing level of flex along a ski is referred to as a flex pattern and is a feature commonly used in the manufacture of skis. When manufacturers talk about the flex of a ski they are generally talking about longitudinal flex.
Torsional Flex
Torsional flex refers to a skis ability to twist between its two edges. Again, a stiffer ski will give more stability when driving hard in a turn and a softer flex will give the ski more forgiving properties.
Most skis will seek to find a balance corresponding to the characteristics required of the ski.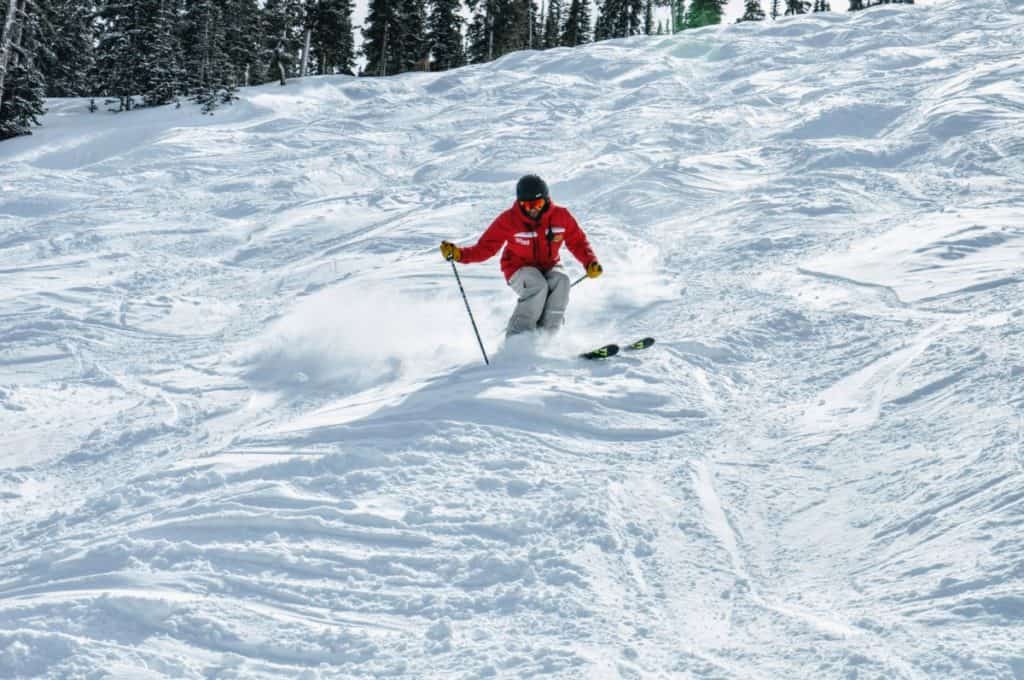 What Gives Skis Their Flexibility?
Modern skis are made from a variety of materials to produce a product with a level of flexibility to suit the desired performance of the ski. Most flexible skis adopt the use of various types of wood in the manufacturing process and this gives the ski its consistent flex characteristics.
Different types of wood result in different flex dynamics. 
The Benefits of Stiff Skis
In general terms the stiffer the ski, the more powerful the ski becomes and the stronger the skier needs to be to operate it. Stiff skis will offer more grip when put on edge and are ideal for creating precision carved turns on hard snow. 
High performance racing skis tend to be stiff and are suited to athletes requiring them to perform at the highest level.
However skis don't need to be stiff in order to perform at their best in all situations.
The Benefits of Soft Skis
Soft flex in a ski will allow the ski to initiate and exit turns easier. Softer flex skis are less demanding for all day recreational skiing and generally require less effort. However, too soft and they will begin to turn, perhaps when you are not quite ready for it. 
Be sure to choose the correct bindings for your skis. Learn how in this guide!
How To Choose The Correct Ski Flex
The problem with choosing the flexibility of a ski is that there is no universal scale or measurement of flex for skis, so is it more of a feel thing. Some manufacturers will have their own scale, however this will only allow comparison within their own range of products.
Ski makers will generally make their products with the flexibility to suit different conditions or skier profile, then advertise them according to their purpose and performance.
For most recreational skiers, a medium flex is desirable. However, this might be at a softer or stiffer end of a large range, so we need to consider what will be optimum to suit the application and the individual. 
The optimum flex for any particular skier will depend on the following factors:
1. Ability
Beginner skis are generally very flexible. This ensures turns are easy to initiate and they forgive  mistakes.
Intermediate skiers generally want a soft to medium flex ski. Perhaps a ski with more flex at the tip to help with initiating turns. 
Expert skiers will be more inclined to ski on medium to stiff skis, depending on the style of skiing they prefer.
2. Size and Strength
A skiers weight and height should relate directly to the stiffness of a ski, along with the ski length. Small, light skiers are best served by skis with softer flex than those who are tall and heavy set. 
Super fit, athletic skiers will also be able to benefit form the power a stiffer ski offers in the right conditions.
3. Skier Style
The style of skiing will play a big part on how flexible a ski needs to be.
For example, racing skis need to be stiffer in order to make powerful turns at high speed, whereas freestyle skiers will want a more flexible ski, especially at the tip and tail of the ski to enable stability when performing tricks and jumps.
All mountain skis will generally have a medium flex and such skis will be sold with a multitude of flex profiles to create a wide range of characteristics.
Powder specific skis tend to have a softer flex in order to maximise float. They may also be wider and longer for the same reason.
4. Conditions
When it comes to snow conditions, basically the softer the snow, the softer the flex of the ski. Stiffer skis will perform best on hard pistes and they will also provide more support in the chop and crud.
Softer skis will be easier to manage in deep powder.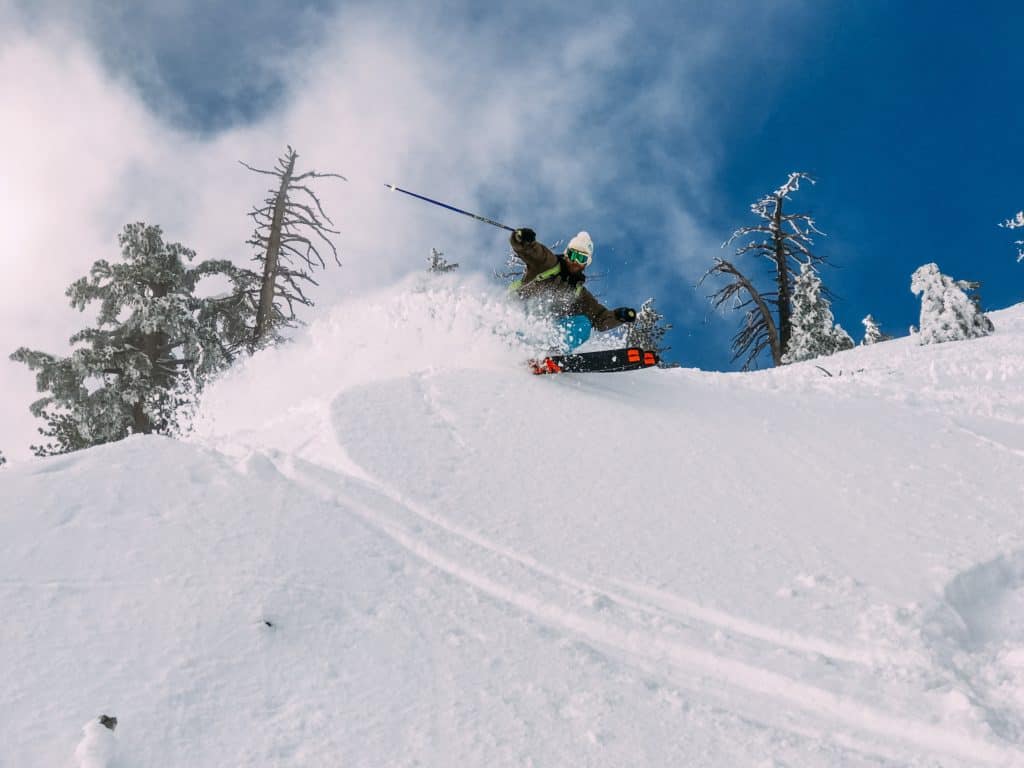 Read next
Ski Flex Summary
When choosing the stiffness/flex of a ski, it's important to find a ski which has the characteristics to suit your size, strength, ability and the style of skiing you will be doing.
Most skis aimed at recreational skiers will have a medium flex pattern. It's worth trying out a few options based on your own personal dynamics and style, to try and work out what works best for you.
If your skis are too stiff you may be exhausted by lunch time, if you don't have the weight or stamina to handle them or the conditions don't justify using such a rigid ski. Too stiff and you may not be able to create enough shape in the ski to turn at all.
If your skis are too soft they may feel like they have a mind of their own and you could loose control at higher speeds. 
Most skis are designed to offer a balanced performance based on the skis description. Read the manufacturers information and check out the many online reviews to find a ski that will give you the most enjoyment.