There are a number of factors to consider before purchasing a pair of snowboard boards and one of the biggest considerations is the boot stiffness, known as boot flex. Snowboard boot flex refers to how easily the boot can bend.
Generally speaking, boots with a lower flex rating are soft and boots with a higher flex rating are stiff. Softer boots are easier and more comfortable to use so are better suited to beginners whereas stiffer boots provide finer control and are better suited to advanced riders.
However, there are other factors that might influence boot flex choice such as the type of riding you enjoy, how often you snowboard in a season, how much comfort you desire and budget.
In this guide I'll outline everything you need to know about snowboard boot stiffness/flex so that you can purchase your next pair of boots with confidence.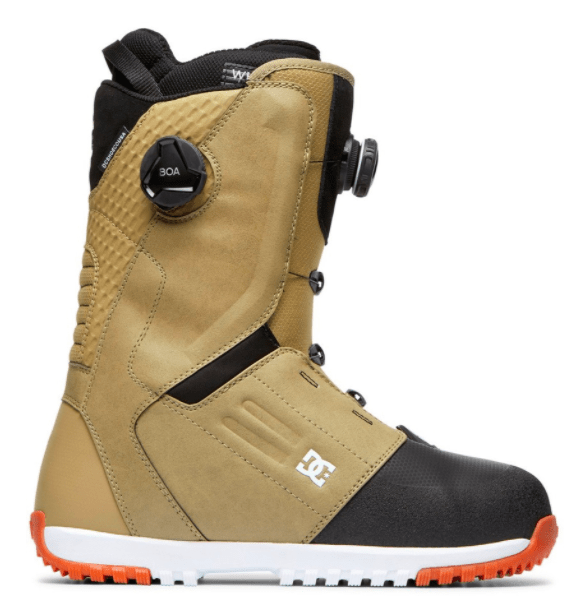 Disclaimer: Some links in this article are affiliate links, which means that if you purchase through them I receive a small commission, at no extra cost to you. This helps cover the cost of running this blog. Thanks for your support!
Snowboard Boot Anatomy
Before we get stuck into boot flex, lets look at the individual sections that make up a snowboard boot.
Snowboard boot shells are made of fairly stiff material which is designed to provide some flexion through bending at the ankle.

Every snowboard boot comes with a lining that sits directly up against the lower leg.

The inner section has a tongue which will be tightened first, usually by way of a drawcord. This also adds boot stiffness.

Snowboard boots have a thick sole with a chunky tread to provide grip when walking and shock absorption for heavy landings.

Finally there is the snowboard boot lacing system to keep your foot securely in place.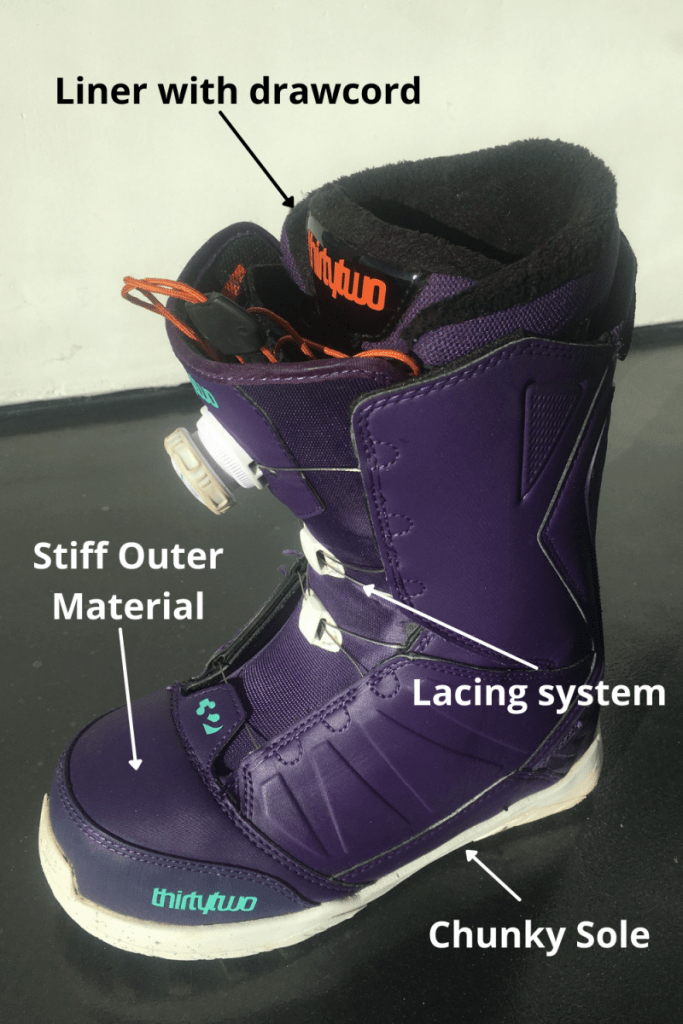 What Is Snowboard Boot Flex?
When we talk about the flex or stiffness of a boot, we refer to the amount of bend at the ankle: How easy or hard it is to push your shin down to your toes.
Snowboard boot flex is measured on a rating of 1 – 10, with 1 being the softest and 10 being the stiffest. There is no industry standard when it comes to boot flex so every brand has their own measure. This means a boot flex of 6 by Burton may be different to a boot flex of 6 by DC, for example.
A soft flex is considered 1-3, medium flex 4-7 and stiff flex 8-10. These ratings will roughly correlate to the flex of snowboard bindings.
Much like ski boots or hiking boots, snowboard boots will also soften over time as you break them in. This should be taken into consideration when choosing your snowboard boots because if you pick a pair that are borderline too soft to begin with, they will only get softer with time.
How To Choose The Correct Snowboard Boot Flex
Determining the right snowboard boot flex for you will depend on several factors. These include:
Riding style
Riding ability
Budget
How much riding you plan to do
Compatibility with bindings and board
1. Riding Style
Free-ride
Free-riders are typically aggressive riders who feel at home at fast speeds or in deep powder. They are comfortable with powerful carves in resort or steep bowls, narrow chutes and anything else the backcountry can throw at them.
These conditions require a fast response from rider to board and that requires a stiff boot as well as stiff bindings and board. Challenging terrain demands support around the ankle to make quick turns and solid control at high speed. 
Freestyle
Freestyle riders spend most of their time hitting features in the park or natural jibs around the mountain. This requires a lot of manoeuvrability which can only be provided by softer flexing boots. This is also the case for bindings and boards.
Soft flex boots (1-4) are ideal for riding rails, jibbing, buttering and tweaking out grabs. Softer boots also offer some forgiveness when landing jumps.
However, hitting big kickers and the half pipe requires something with a little more stiffness (flex 5) to maintain stability at speed and hold an edge. A soft-medium flex would be more suitable for freestyle riders who focus more on big kickers or pipe.
All-mountain
All mountain riders like to do it all! From surfing powder, to cruising the groomers, with a lap through the park thrown in for good measure. All mountain riders will be comfortable in medium flex boots (4-7). This provides enough support for the terrain without being too much like hard work.
As an all-mountain rider, if you lean more towards freestyle then opt for the lower end of a medium flex rating, whereas if you spend the majority of your time speeding around the resort opt for the higher end of a medium flex.
If you're an all-mountain rider who only spends a week or two snowboarding every season, you may simply opt for the forgiving comfort of a softer flex.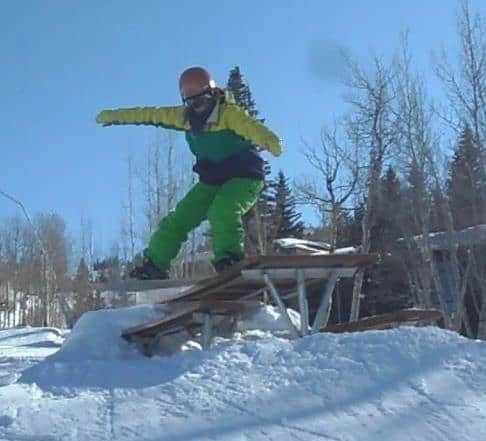 2. Riding Ability/Level
Beginners
Beginner snowboarders are looking for a boot that is comfortable and easy to use. For this reason soft or medium-soft flex boots (1-4) are ideal. Soft boots are forgiving to inevitable mistakes and easy to  manoeuvre.
However, be aware that you will not be a beginner forever, so you might consider choosing a slightly stiffer boot that you can "grow into". Just be careful not to go too stiff too soon, as your learning will become a painful and miserable experience.
With a flex rating of 3, Burton Mint is a good option for beginner females and the Burton Moto is a good option for beginner males. 
Intermediate
Intermediate riders will thrive in a medium flex boot. Intermediates are not yet free from making occasional mistakes and may find a very stiff boot too much to handle. As an intermediate you will start to discover which type of rider you want to become and what terrain you enjoy riding the most.
If you feel yourself being pulled towards freestyle, stick with a softer flex boot but if you're pulled towards the steep and deep, opt for a slightly stiffer end boot.
The Burton Ruler is a solid medium flex snowboard boot for men.
Advanced
Advanced riders may vary widely on the flex of their boots. Advanced riders who lean towards freestyle riding will choose a softer flex whilst advanced free-riders will rely on stiff flex. They may even have different boots, boards and bindings for different days and weather conditions.
For example, I have a very soft pair of snowboard boots for when I'm instructing snowboard lessons, as I spend a lot of time moving at slow speeds and require comfort above all else. I also have a pair of stiff boots for riding powder, charging around the resort and split-boarding.
The DC Phase is an example of a stiff womens snowboard boot.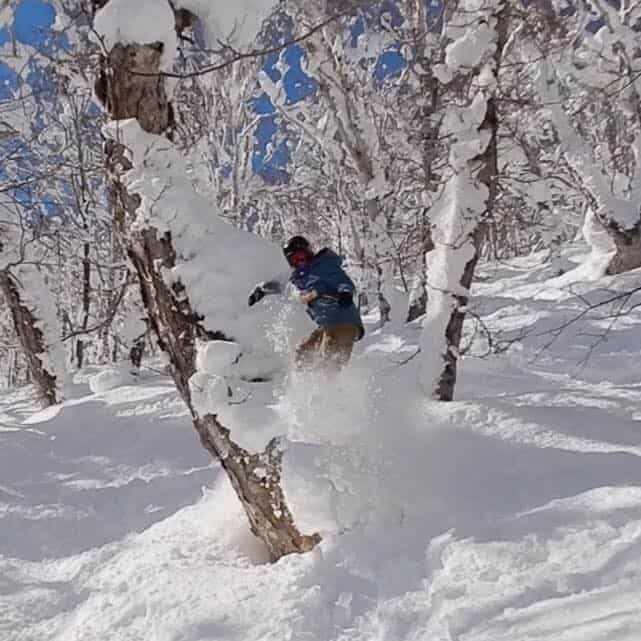 3. Budget
As a general rule, softer boots are less expensive than stiffer boots, so if you're on a tight budget you may lean towards softer boots. Whilst I wouldn't recommend letting budget dictate your choice of boot it is often a factor. If there is a choice, I would always recommend spending more money on boots and cutting back on the board or bindings.
4. How Much Riding Do You Plan To Do?
Softer boots are more comfortable than stiffer boots so if you only plan to ride one or two weeks per season, then you might prefer a softer boot with the comfort that it brings. You won't need to worry about boots softening up too much or too quickly as you won't be using them often enough for that to be an issue.
However, if you ride hard for 100 days a season, an already soft flex boot will be a floppy mess by the end of the season. A stiffer boot, whilst being a little more uncomfortable in the beginning, will offer more longevity overall. 
Pro Tip: Be sure to get your new boots heat moulded by the shop so that they fit your feet right from the get go. This way you won't spend an uncomfortable week breaking-in your snowboard boots.
5. Compatibility
If you decide to go down the Step-On binding route then you will be limited to the amount of flexibility your boots can offer. With Step-on bindings there is no heel strap or toe strap to secure the foot in place, which means a level of stiffness and stability needs to come from the boot itself.
The other other consideration is whether your boot works well with the board and binding setup you have chosen. Although in theory you can have a stiff board with stiff bindings and soft boots, it doesn't really make sense as the stiffness in the board and bindings will counteract the softness of the boots.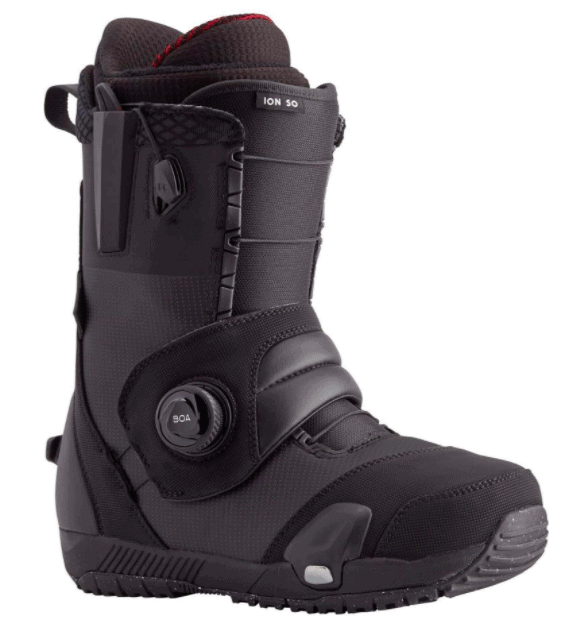 Soft Boots vs Stiff Boots – The Pros And Cons Of Each
What are the benefits of soft boots?
Comfortable to wear
Very quick to break in
Allow easy manoeuvrability
Great for beginners
Good for freestyle riders
Ideal for lightweight riders
Budget friendly 
What are the drawbacks of soft boots?
Difficult to maintain control at high speed
Harder to carve
Faster to wear out
Less ankle support
Related Reading
What are the benefits of stiff boots?
Provide good control at high speed
Offer good ankle support
Great for carving
Good for all mountain riders
Good for backcountry riders
Fast transfer of energy through the board
More responsive
What are the drawbacks of stiff boots?
Uncomfortable to wear
Take a long time to break in
Difficult for beginners
Difficult for freestyle manoeuvres 
More expensive
Final Thoughts On Snowboard Boot Stiffness
There are several factors to consider when choosing snowboard boots such as the lacing system, shock absorption and boot stiffness or flex. The flex of the boot refers to how easily they bend at the ankle and how much flex a snowboard boot has depends on its intended use.
Softer snowboard boots are comfortable and easy to use so are best suited to beginners and freestyle riders. Medium flex boots provide good support without being too stiff and are best suited to all-mountain riders. Stiff snowboard boots provide a high level of control at speed and in backcountry terrain so are best suited to free-riders.