Snowboard boots come in various models and types. There are many things to consider when buying your first pair of snowboard boots such as boot flex, shock absorption and which type of boot lacing system to choose. 
There are 3 types of snowboard boot lacing systems. These are traditional laces, Speed Lacing and Boa. Each type of lacing system has their own pros and cons and which type you prefer will ultimately come down to personal preference. There are several factors that will influence this decision though such as budget, customisation and ease of use.
Various brands use different lacing systems and come with their own versions and names. Boa is patented technology and is licensed out to other brands. Burton has their own version of speed lacing which is called Speed Zone and Salomon's version is called ZoneLock.
In this guide I'll explain all you need to know about snowboard boot lacing systems. I explain the pros and cons of each so that you can decide which snowboard boot is best for you.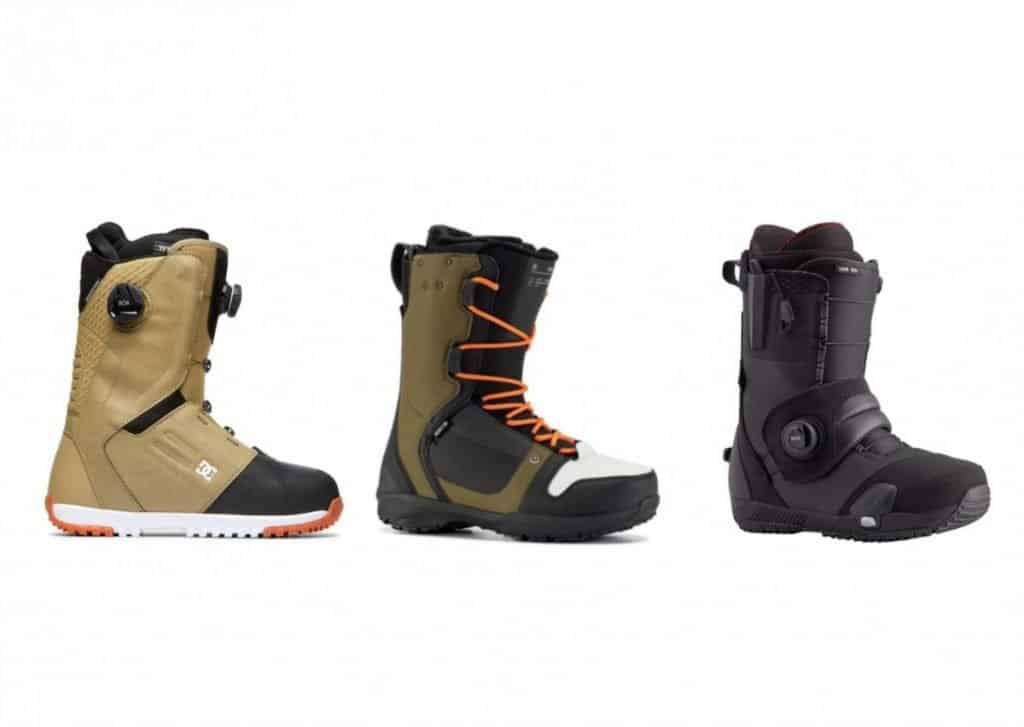 Disclaimer: Some links in this article are affiliate links, which means that if you purchase through them I receive a small commission, at no extra cost to you. This helps cover the cost of running this blog. Thanks for your support!
Snowboard Boot Anatomy
Whatever the lacing system, every snowboard boot comes with a lining that sits directly up against the lower leg. This inner section has a tongue which will be tightened first, usually by way of a drawcord.

Snowboard boot shells are made of fairly stiff material which is designed to provide some flexion through bending at the ankle.

Snowboard boots have a thick sole with a chunky tread to provide grip when walking.

Finally there is the lacing system to keep your foot securely in place.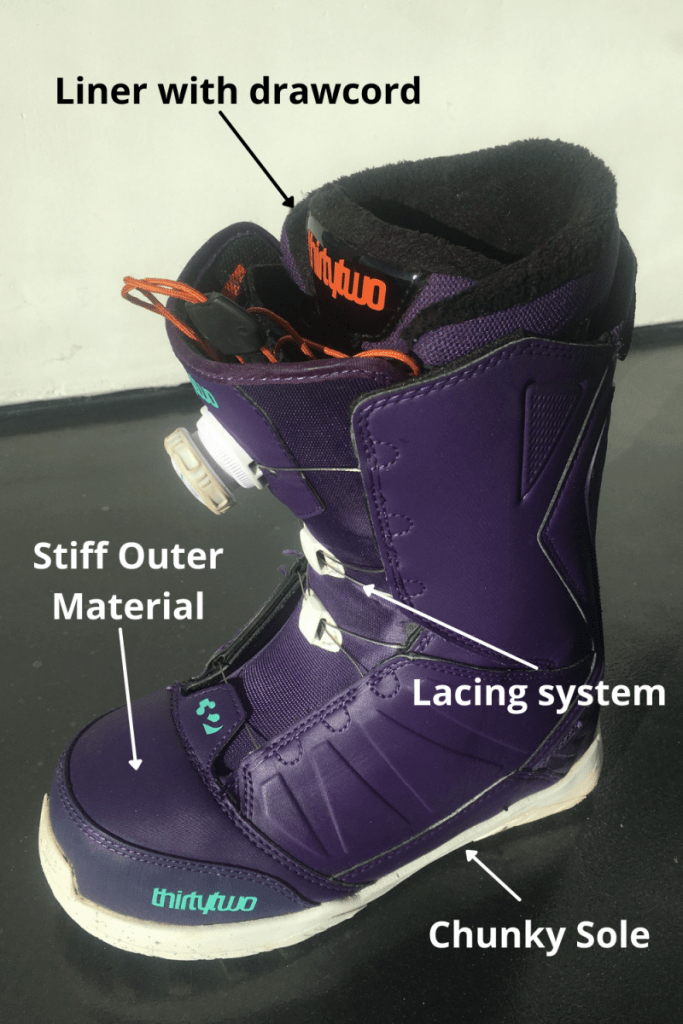 Traditional Snowboard Boot Laces
Traditional laces have been used in snowboarding since the very beginning and work just like tying any other type of boot. They offer a fully customisable fit to the user every time, since the user is able to make every section as tight or as loose as required. Laces are cheap and easy to replace if they break, however they are typically made of durable material so this isn't a big concern.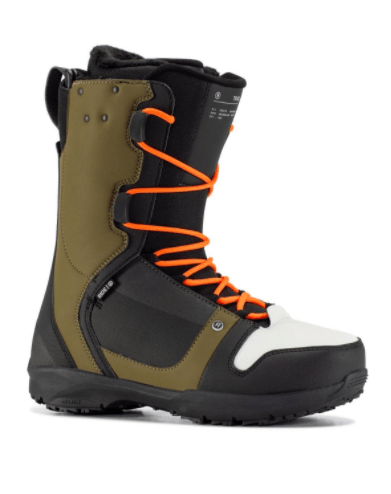 Benefits of

lacing snowboard boots
Snowboard boot laces are easy to replace

Can be lower in cost since there are no extra features

The fit is fully customisable

Less prone to creating pressure points
Downsides of

lacing snowboard boots
Requires strength to achieve a tight fit

Difficult to tighten whilst wearing gloves

Can work loose throughout the day 
Why choose traditional snowboard laces?
Snowboard boots with traditional laces will be good for you if:
You're on a tight budget.

You typically have issues getting standard shoes to fit, for example having high arches.

You're physically quite strong so pulling the laces tight enough isn't an issue.

You prefer the optimal customisation laces offer.
DC and Thirty Two stock a good range of snowboard boots with traditional laces.
Related Reading
Speed Laces
Snowboard boots with speed lacing have laces that are pre-laced and fixed in place. At the top of the boot there are two handles, one at each side. To tighten the boot the user has to pull the handle so that the laces become tight and then pull them backwards to lock them in place.
Since the tightening is controlled in two zones there is some customisation to the fit, but not as much as regular laces. This system is quick and easy to use and although some strength is required to pull the laces tight, it's not as difficult as traditional laces.
Speed laces can work loose throughout the day but tightening is quick and easy so it's not really an issue. If the laces break it's not an easy fix.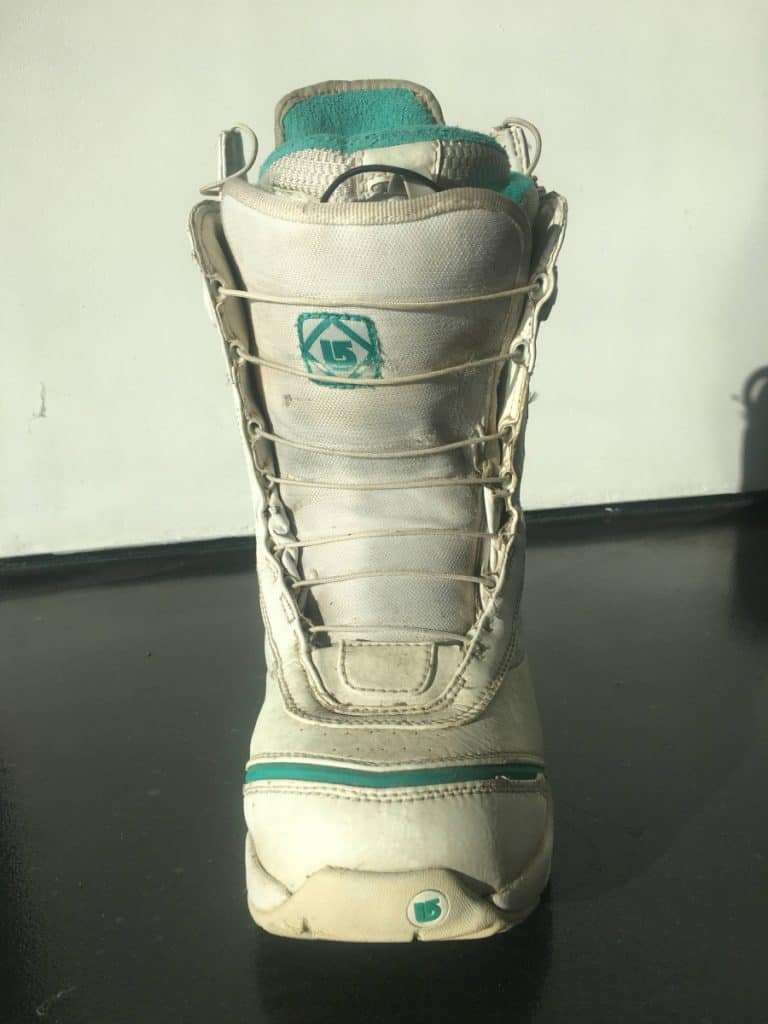 Benefits of speed laces
Easily adjusted

Quick

Customisable fit thanks to upper and lower zones

Tuck away neatly in designated pockets

Can be adjusted whilst wearing gloves
Downsides of speed laces
Not easily replaced if they break on the mountain

Requires some strength to achieve a tight fit

Can work loose throughout the day
Why choose speed laces?
Snowboard boots with speed laces might be for you if:
You're looking for a quick and easy lacing system

You prefer to have dual-zone adjustability
Burton are the best option for speed laces. The Burton Mint is a good option for beginner females and the Burton Moto is a good option for beginner males. 
Boa Systems
Boa boots are much different to the other types of lacing systems. Instead of material laces, wires are used which are tightened by turning either 1, 2 or 3 dials. To release the wires the dial is pulled out. Easy!
If the Boa boot uses one dial – Single Boa – that dial will appear at the top of the boot where you would normally tie your laces. This dial will tighten the whole boot.
A good beginner boot for men with single Boa is Thirty Two STW whilst a solid womens choice is the DC Phase
If the Boa boot uses two dials – Double Boa – the second dial will be found at the side of the boot. One dial will adjust the upper zone and one dial will adjust the bottom zone.
A good beginner boot for men with double Boa is DC Control and a good choice for women is Thirty Two STW Double Boa.
Finally there is the Triple Boa system which, as you might have guessed, has three dials. One on the front and one on each side. One dial tightens the upper zone, one dial tightens the lower zone and the final dial manages the Tongue Tied system which is designed to hold your heel in place.
Rides Trident boot features the Triple Boa system, although these aren't a beginner boot since they are very stiff.
Boa usually uses braided stainless steel, so breaking wires shouldn't be a problem, however if they do break it's not a quick or easy fix.
Note: If you choose the Burton StepOn binding and boot system, all boots currently come with Boa so you don't have a choice (with the exception of the mens Ion which features speed lacing and Boa)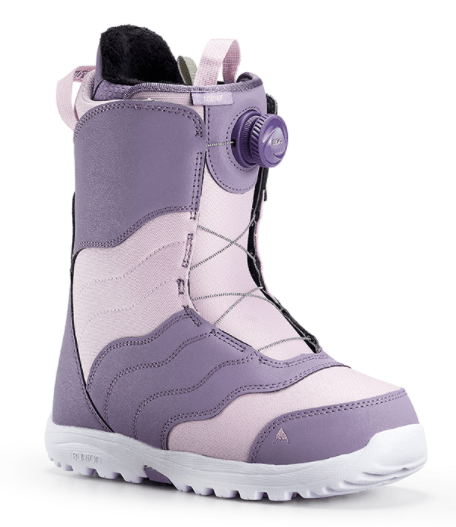 Benefits of Boa
Easily adjusted

Quick

Infinite micro adjustments are possible

Requires just one hand and can be adjusted whilst wearing gloves

Triple Boa is great for those who struggle to find boots that fit well and works particularly well for anyone who struggles with heel lift.
Downsides of Boa
Not easily replaced if they break on the mountain

Customisable adjustments aren't possible on single Boa systems

Double/Triple Boa systems are more expensive

Dials stick out from the boot so if you have snug pants they might struggle to get over your boot!
Why choose Boa?
Snowboard boots with Boa might be for you if:
You want to be the first person from the car park to the chair in the morning

Prefer minimal effort when tightening your boots

Want the precise boot adjustment that comes with the double and triple Boa systems

Are happy to splash some cash for the multi-zone adjustability
All major brands such as Burton, DC, K2, Thirty Two and Salomon use the BOA system. Travis Rice and Anna Gasser both use Boa systems which is a pretty solid recommendation too!
Hybrid snowboard boot lacing systems
Finally there are some boots which use a combination of systems. Often, hybrid boots will use the Boa system to keep the ankle in place whilst using either traditional laces or speed laces to tighten the rest of the boot.
They will have the same pros and cons as the individual systems which they use. They will typically be more expensive.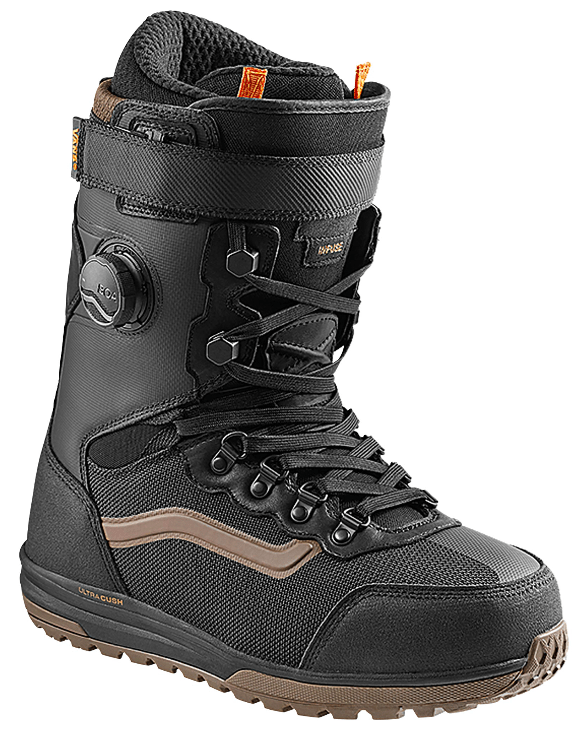 Snowboard Lacing Systems Summary
As with many things, which snowboard boot lacing style is best comes down to personal preference.
If you typically suffer with pressure points or have a non-typical foot profile, you might prefer traditional laces or Triple Boa. If you want a quick and easy system or lack strength to tighten laces, you'll get on better with speed laces or Boa. If you want a boot on a budget you might want to look at traditional laces.
I started my snowboarding life with traditional lace ups since that's what was provided while I was renting equipment. But I knew for my first pair of boots I wanted something quicker and easier to use, so I chose the speed lace system.
For my next pair I stuck with speed laces as I knew it worked for me, before most recently buying a pair with Single Boa. My Boa are ok but I prefer the ability to tighten the upper and lower zones independently. Therefore for my next pair I will either buy speed lacing or a multi-zone Boa.