There are many terms and technologies that fly around the snowboarding world. Some trends come and go whilst others stick around. One type of technology which has stuck around is Magne traction.
Magne traction refers to the wavy pattern found on the edge of certain brands of snowboards. In a nutshell, this system is used to provide more contact points with the snow, which in turn will give the snowboard more grip on hard packed snow or icy conditions.
In this guide I take a deep dive into Magne traction technology explaining what it is, where to find it and how it could potentially benefit your riding.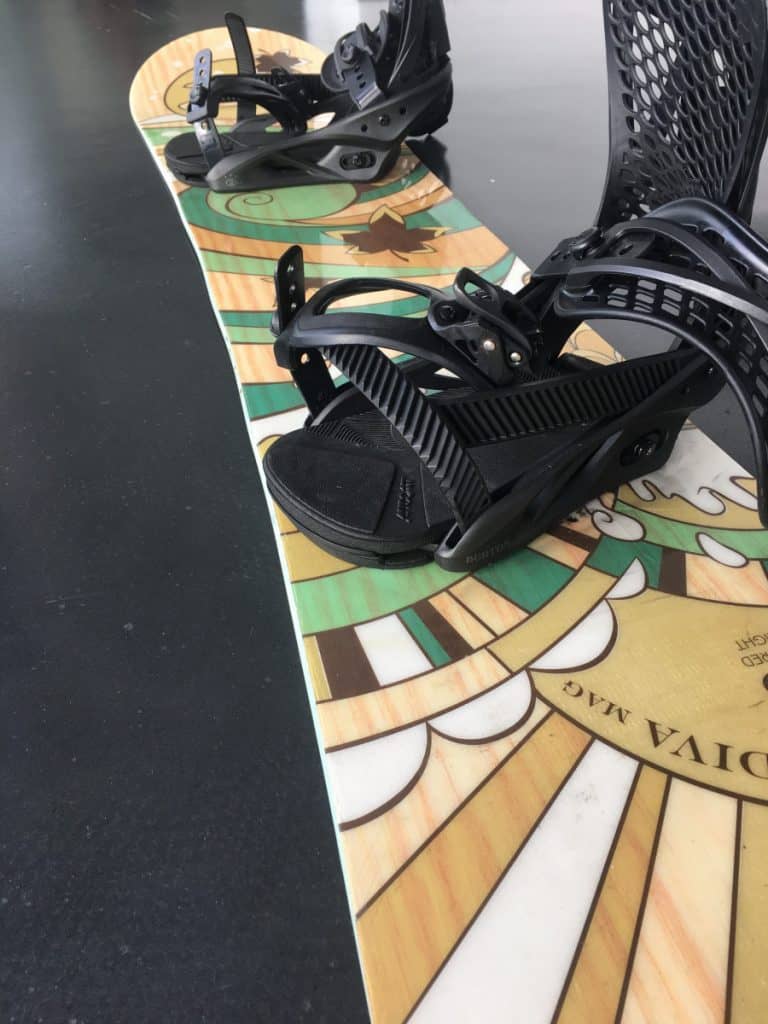 Disclaimer: Some links in this article are affiliate links, which means that if you purchase through them I receive a small commission, at no extra cost to you. This helps cover the cost of running this blog. Thanks for your support!
Magne Traction Technology
Most snowboards without Magne traction have two contact points on the snow which are found at the widest points at the nose and tail. When riding a regular camber board the weight is exerted down through the snowboard at these two points.
Snowboards with Magne traction have 7 points of contact with the snow. The contact points come in the form bumps or "teeth". The biggest bumps are placed between the bindings where the least amount of force is exerted on the board, which ensures your edge stays in contact with the snow.
Out at the nose and tail the bumps are smaller since those areas are already in contact with the snow. The extra points of contact allow the snowboard to cut into hard snow and provide more grip.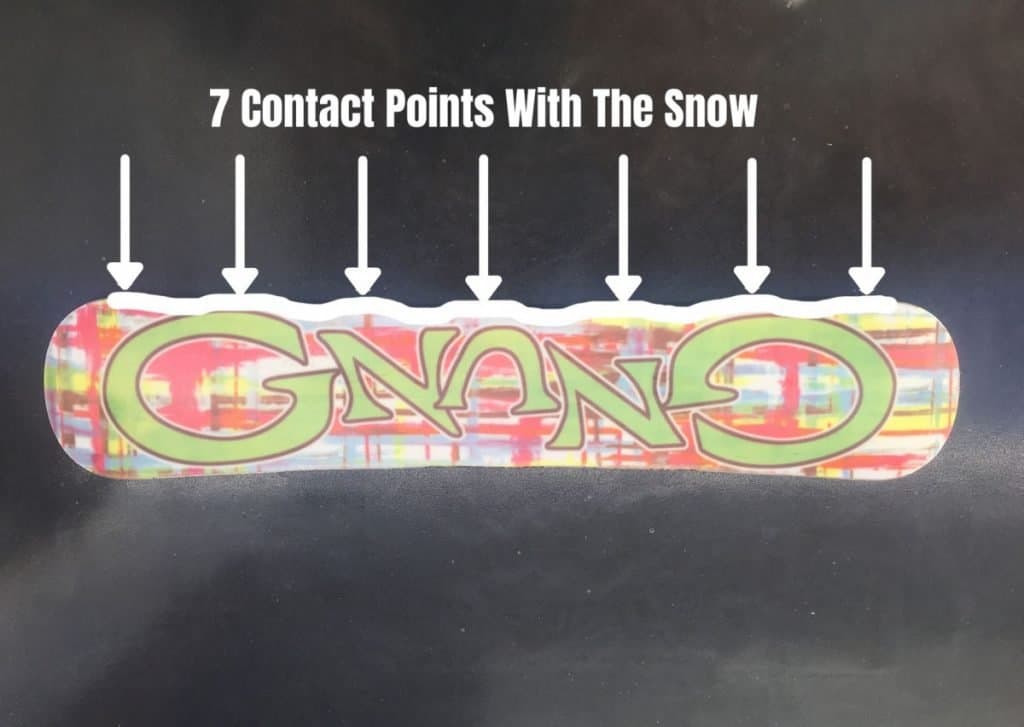 Think of Magne traction like using a serrated knife. Which would you prefer for cutting bread – a serrated knife or a butter knife? A serrated knife cuts better and with less effort because it has multiple points of pressure.
Why 5 bumps? (or 7 if you count the two contact points at the nose and tail)
When the guys at Lib Tech investigated serrated edges they discovered they physically couldn't create more than 5 bumps, since they couldn't get the steel to bend in that way. So they focussed on where the bumps would be most beneficial.
The biggest bump is at the centre of the board (where there is the least amount of downward pressure). Then there are two bumps either side of each binding to distribute the force exerted from the binding itself. Finally there is one bump at the nose and one bump at the tail, although these are the regular contact point present on all snowboards.
Who created Magne traction?
Magne traction was created by Steven Cobb and Mike Olson at Lib Tech in 2003. Since its creation Magne traction has won 15 Transworld Good Wood awards and over 20 Future magazine awards.
Do other brands use Magne traction?
Since its creation Magne traction has been licensed to many other popular brands including Roxy, GNU, Rossignol, Jones, Niche Snowboards and Smokin Snowboards.
Variations of Magne traction technology
Many other snowboard brands have developed their own version of Magne traction. The technology differs slightly but they all aim to create more contact points with the snow.
Rather than creating bumps like a serrated knife, other brands try to create more contact points through using multiple sidecut radii. I explain all about sidecut radius and how it affects riding in this article.
Some examples from other brands include:
Fostbite Edges by Burton.

Equalizer by Salomon. This system uses straight lines with geometric shapes to create more contact points. They have a 3 sided sidecut which creates 5 contact points and a 5 sided sidecut which creates 7 contact points.

Griptech by Arbor.

QuickRip by Rome.

Vario Power Grip by Never Summer. In this system the snowboard uses 5 different sidecut radii to create 5 contact point with the snow.
Read Next
In what situations will Magne Traction help my riding?
Rocker boards
Magne traction works most effectively with rocker boards or hybrid rockers since these boards have a weaker edge hold and looser ride than traditional camber boards. Personally I have two rocker boards, one with Magne traction and one without, and the difference is staggering.
Now my rocker board without Mange traction is reserved purely for deep powder days which are quite rare unless you're based in Japan!
I also have Magne traction on my hybrid rocker board and I can feel it dig in as soon as the snow pack hardens.
If you'd like to learn more about camber vs rocker boards read this article.
Hard packed snow and ice
Magne traction is designed to work it's magic on hard pack and ice and this is where you can really feel the difference. The extra pressure points cut into the snow and prevent you from washing out.
The wavy edge makes carving possible even on a rocker board on hard snow.
Split-boarding
Jeremy Jones is a big advocate for using Magne traction in the backcountry. Even though it has no impact when riding powder it helps skinning up-hill whilst using a split board. On splitboards the Magne traction edge becomes the inside edge of each ski, creating more grip for those kick turns.
I have Magne traction on my Jones Dreamcatcher Splitboard and find it helps secure the edge whilst traversing uphill.
For a beginners guide to split boarding, see this article.
Freestyle 
Magne traction can even benefit freestyle riders who actively look to detune their edges. Detuned edges prevent catching edges on boxes and rails but the wavy edge still provides grip during regular riding.
Summary – Do I need Magne traction?
To summarise I would say that although not everyone needs Magne traction most people would benefit from it. The amount of extra control it provides through cutting into hard snow is immensely valuable. The downsides are…. well there are no downsides, other than the fact that it adds zero value in powder conditions. But that's ok because that's not where it's designed to have an impact anyway.