Stomp pads provide useful extra traction for your snowboard boot when it's not strapped into the back binding. This can make situations where the use of one-footed riding, such as unloading chairlifts, a much easier and comfortable experience.
Stomp pads are produced by many major snowboard manufactures and are available in a multitude of shapes, sizes and designs.
When choosing the best snowboard stomp pad there are a few factors to consider. These include the grip, size, material, price and looks.
Based on this criteria, in this guide I offer the best stomp pads for snowboards in 2023.
Disclaimer: Some links in this article are affiliate links, which means that if you purchase through them I receive a small commission, at no extra cost to you. This helps cover the cost of running this blog. Thanks for your support!
The Best Stomp Pads: A Quick Overview
No time? No problem! Here's a quick overview of the best stomp pads.
What is a Stomp Pad?
A stomp pad is a pad, bar or stud that is stuck to the top surface of your snowboard to provide extra traction for your boot, when you rear foot is not strapped into the binding.
Stomp pads are usually placed on the snowboard between the two bindings, usually closer to the rear binding. They can be made of foam, rubber, plastic or metal and are glued to the snowboard using an adhesive layer.
Snowboarding stomp pads are available in all different shapes, sizes and styles and are produced by many major snowboard and outdoor brands such as Burton, Volcom and Dakine.
Do I Need a Snowboard Stomp Pad? (And Other Factors to Consider)
Some people love them, some people hate them but stomp pads definitely provide an extra level of grip on your snowboard. Whether you decide to use one may come down to simple ascetic reasons or personal preference.
Stomp pads are arguably more useful for beginners who haven't yet mastered the art of one-footing or for casual resort riders who just want a little extra help when unloading from chairlifts or using button/t-bar lifts.
In the backcountry or in very heavy snow conditions, basic low-profile stomp pads will offer little help but around the resort snow build up on the stomp pad isn't too much of an issue.
Most stomp pads cost in the region of $10 – $25 so price may not be the biggest factor in your buying decision. However it is worth noting that foam stomp pads are typically the cheapest whilst metal stop pads are more expensive. 
If you want the grip of a stomp pad but don't want to ruin the amazing graphic of your snowboard, you could consider getting a clear or see through stomp pad as these are also available.
One final consideration is the texture of your snowboard. Snowboards have traditionally been glossy and therefore slippery when wet, however with the development of textured snowboards stomp pads may become unnecessary. 
As a beginner I was a big fan of stomp pads as it provided me with extra confidence when using chairlifts/towlifts and when navigating flat areas. Now I'm just as happy wedging my back foot up against my binding, since all of the control and direction with one-footed riding is actually dictated by the front foot. 
However, if you like to indulge in one-footed tricks, you might like the added grip a traction pad can offer.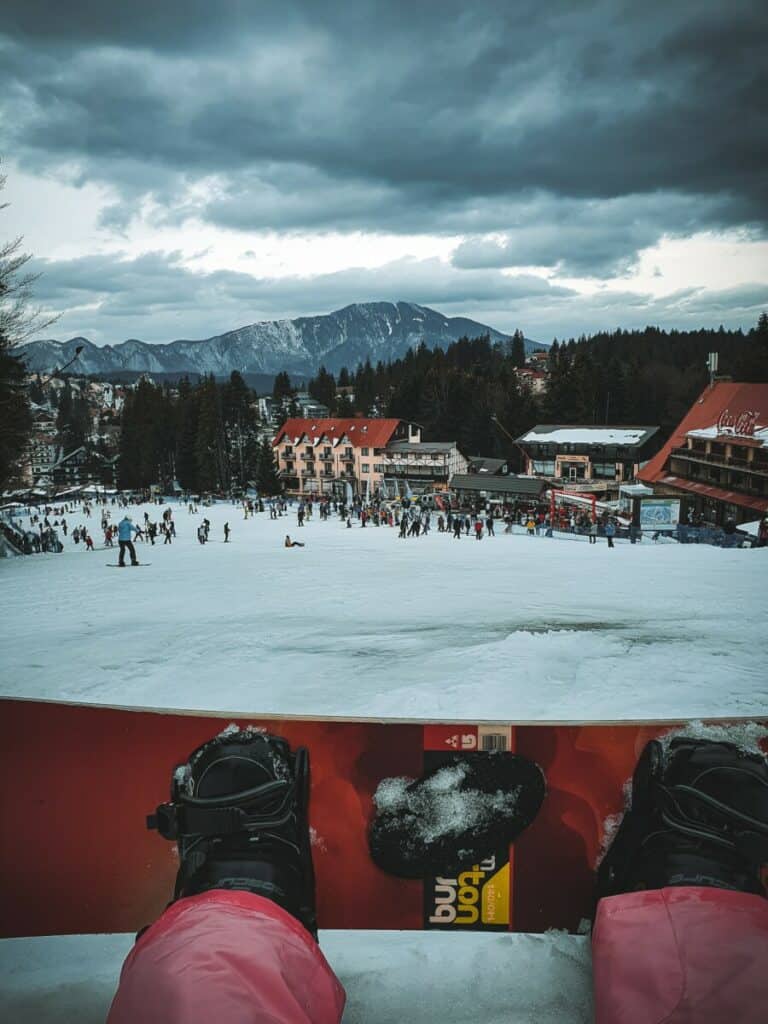 Related Reading
Types of Snowboarding Stomp Pads
Snowboarding stomp pads are hugely varied in style and type and are only limited by imagination – you can even get a stomp pad in the style of a Game Boy or a pizza slice!) However, there are a few basic styles that are quite common, these being:
1. Flat Foam Pads
These are often the cheapest type of stomp pads but provide a subtle look and don't interfere with board flexion. They're often quite low profile so aren't as effective in snowy conditions or when snow gets compacted on your board.
2. Metal/plastic studded cones, spikes or pyramids
In my opinion, these are the best type of stomp pads for snowboards because they have the biggest profile (ie they're tall) and therefore provide the best grip in all snow conditions. The spikes are usually individually placed so don't interfere with the flex of the board.
3. Plastic discs or shapes
These are quite popular as they're easy to produce and are therefore cheap. They can take the shape of something unusual like a cat or something more common such as a clear disc.
4. Scraper and grip pad combo
Some stomp pads include a plastic bar in their design, which can function as a boot scraper to remove unwanted snow or ice from the bottom of your boot before strapping in.
5. Strips or bars 
Usually plastic or foam, some companies now produce simple bars or strips to use as stomp pads. These can be plain, include writing or may even be styled like retro skate rails.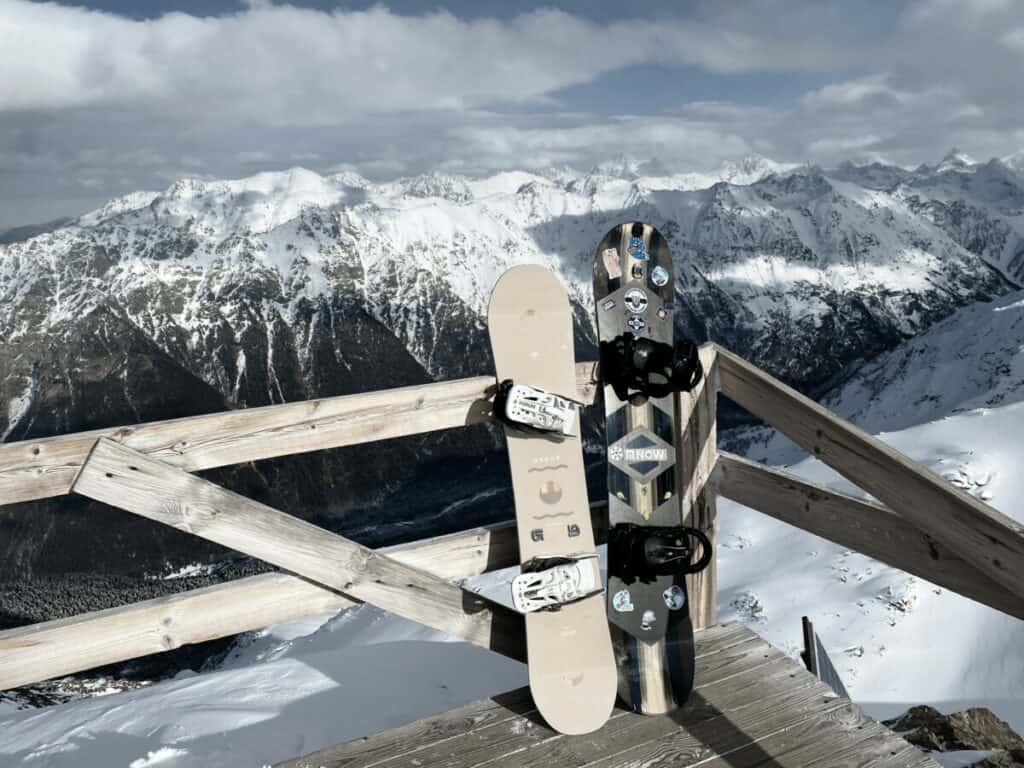 The 5 Best Snowboard Stomp Pads
There are lots of stomp pads available today and which option you choose is down to personal preference. If the most important factor is how your snowboard looks then pick a stomp pad that you think looks good and sits well on your board.
However, if you're looking for the best snowboarding stomp pad then here are my recommendations. These are based on how much grip the stomp pad provides, the ease of installation, how well it sticks as well as how cool it looks.
1. Crab Grap Shark Teeth – The Best Overall Stomp Pad 
Best For: Grip in all conditions 
Material: Unique blend of plastic and rubber
Price: $$
As the name might suggest the shark teeth are pointy, oval spikes that provide the ultimate grip for your snowboard boot. The high profile and shape allow them to cut through compacted snow.
The unique patented Crubber material allows the board to flex naturally beneath the teeth and the indented grooves allow the teeth to be cut out and arranged accordingly.
The teeth are available in different colours and it uses a peel and stick adhesive. The only downside is that installation does require a little bit of handy work to cut out the teeth.
2. Dakine Pyramid Studs – The Best Metal Stomp Pad
Best For:  Metal stomp pad
Material: Zinc and aluminium alloy
Price: $$
Another solid option for a studded stomp pad are the Dakine pyramid studs. These studs are made out of a metal alloy and plated with aluminium or chrome for a brush or glossy finish. The pointy structure of the studs again provide good grip in any conditions and hook into your snowboard boot.
The 9 studs each have a peel and stick backing, making them super easy to apply. You can choose how to lay out the studs to best suit your needs and imagination.
I've had these studs on one of my snowboards and they've never budged, which is a testament to their durability and sticking power!
3. Dakine Modular – The Best Stomp Pad With Scraper Bar
Best For:  A scraper and stomp pad all-in-one
Material: Plastic
Price: $$
The Dakine Modular is the best option if you're looking for a stomp pad that includes a central scraper bar to rid your boot of unwanted snow. The pad is sectioned into 3 pieces so that you can arrange it on your board in a way that feels right to you.
The stomp pad is made of injected moulded urethane, making it extremely durable and since it is split into 3 sections it doesn't affect the flex of your board. The Modular doesn't have a high profile like the studs, so can get congested with compacted snow.
The Modular is available is several patterns and colours, from clear to forest to flowers.
4. Crab Grab Skate Rails – The Most Retro Style Stomp Pad
Best For:  Retro skateboard vibes
Material: Foam
Price: $$
This foam stomp pad was inspired by the classic rails found on skateboards when I was a kid. Since the pad is made of foam, the stomp pad is lightweight and doesn't interfere with the flex of your board. The foam surface has Gripples which is Crab Grabs signature nippled texture that helps to provide grip.
The skate rails can be placed to aid traction for one-footed riding or to provide grip when tweaking out grabs. The peel and stick rails are easy to apply and a fun addition to your snowboard topsheet. The rails are available in several colours and patterns.
5. Tuner Stomp Pad – The Most Multi-functional Stomp Pad
Best For:  Never needing to carry a multi-tool
Material: Plastic stomp pad and stainless steel tool
Price: $$$
If, like me, you don't like carrying a heavy multitool while you're snowboarding, then you're in luck! The tuner stomp pad comes with its very own Philips which clips into the stomp pad. You need never be without a tool on the hill ever again!
The downsides of this stomp pad are that the smooth plastic mould won't provide as much grip as studded varieties. It's not the prettiest stomp pad and could easily get filled with compacted snow, but it could get you out of a muddle if you need tighten your bindings in a flash.
Just For Fun Snowboard Stomp Pads
Here are selection on my favourite stomp pads for kids or just to add a fun and functional element to a boring topsheet. Click on the images to learn more.
Tips for Installing Your Snowboard Stomp Pad
If you want your stomp pad to stick well and last a long time, it's worth taking the time to install it properly. Use the following steps:
Ensure the snowboard is completely dry and clean the area with a cloth so there is a good surface for the stomp pad to stick to.
Choose the best position for your stomp pad. This is a personal preference as some people prefer to have the pad near the rear binding, whilst other prefer the it more in the centre of the board. As a beginner I would suggest placing it up near the back binding, but not so close that your boot only ends up using half of the stomp pad.
Remove the adhesive plastic and heat up the sticky side of stomp pad (a hairdryer works well)
Firmly stick the stomp pad to your board and smooth it out to remove any unwanted air bubbles.
Leave the stomp pad overnight to stick and do its thing. Placing something heavy on the stomp pad will give it some extra sticking strength!
Final Thoughts on the Best Stomp Pads for Snowboards
Stomp pads provide extra grip on the snowboard when only the front foot is strapped in. Whilst a stomp pad is not needed they are useful, particularly for beginners and casual resort riders.
The best type of stomp pad is a design that provides good grip, even when covered with snow. Top quality stomp pads will adhere well to the snowboard and last a long time. Stomp pads that provide the best grip are those with a studded design such as the Crab Grab Shark Teeth or the Dakine Pyramid Studs.